Print Friendly Version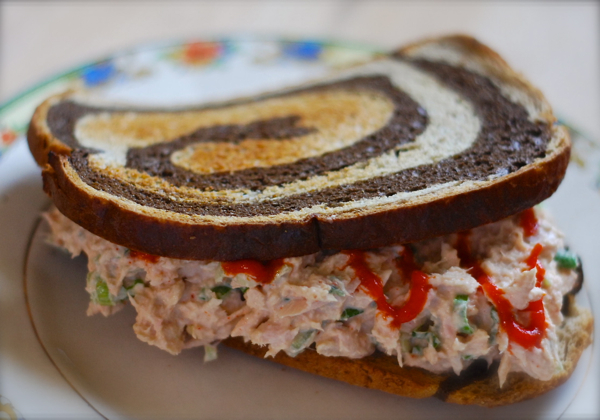 I don't know about you, but this time of year, even when the weather is just whispering "spring," I like to simplify my menus.
I was positively CRAVING a good tuna fish sandwich a couple days ago when it dawned on me… I've never shared my favorite, easy tuna fish sandwich recipe with all of you! This recipe hails from  a time-worn, tried and true vintage cookbook called The Settlement Cookbook. It's soooo simple and sooooo good! Ready?
Makes 2 sandwiches:
1 (5 oz.) can tuna (packed in oil or water)
3 Tablespoons real mayonnaise
1/2 teaspoon Worcestershire sauce
1/8 teaspoon paprika (regular or smoked)
1 Tablespoon finely chopped green or yellow onion
1 Tablespoon finely chopped green bell pepper
4 slices of your favorite bread, toasted and buttered
salt and pepper (to taste)
Sriracha hot sauce for drizzling (optional)
Drain tuna very well and transfer to a medium sized mixing bowl. Add the mayonnaise, Worcestershire sauce, paprika, onion and bell pepper. Mix well. Pile half of the mixture on each of two sandwiches. Top with salt, pepper and Sriracha (to taste.)
Enjoy!
~Melissa
You may enjoy these related posts: