Print Friendly Version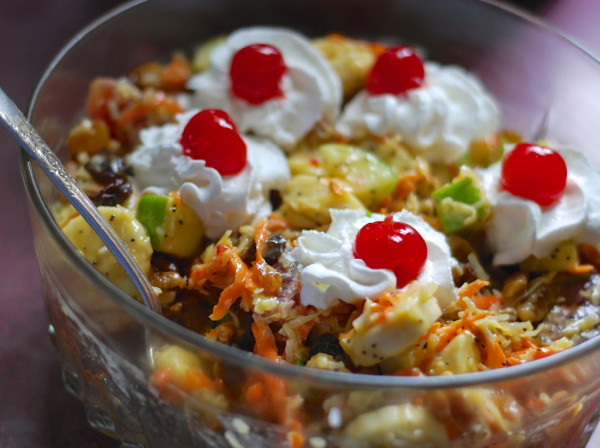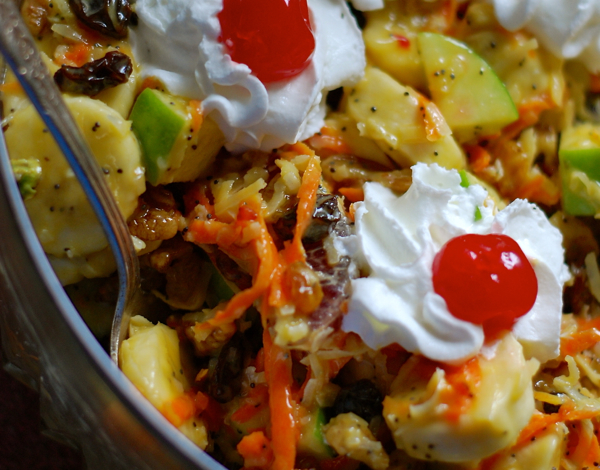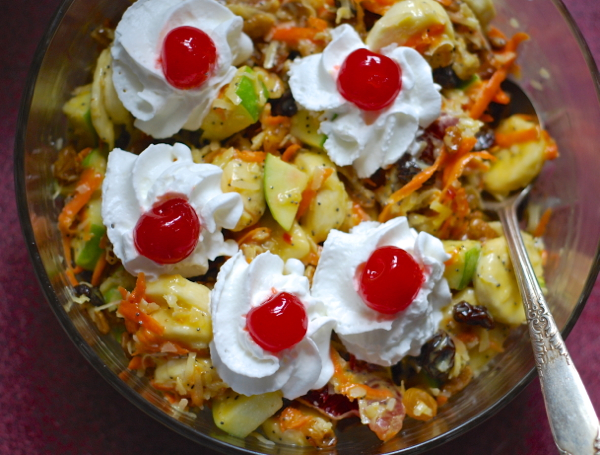 Here's a little salad that I like to make as an addition to breakfast and brunch menus. It's so delicious and fruity. A little tangy, a little crunchy with a hint of lemon. It's pretty sweet, so it could even double as dessert! Don't be tempted to add marshmallows to this salad. It doesn't need them.
for 6 to 8 servings:
salad:
1 large carrot, grated
1/3 cup shredded, unsweetened coconut
2 large bananas, sliced and tossed with a little lemon juice
1/4 cup raisins
1/4 cup sultanas (golden raisins)
1/2 cup chopped pecans OR walnuts
2 tart apples, unpeeled and chopped
2 blood oranges (or your favorite) peeled and sectioned
1 head iceberg or romaine lettuce, chopped
dressing:
1/3 cup undiluted orange juice concentrate
2 Tablespoons olive oil
2 Tablespoons real mayonnaise
1 Tablespoon honey, warmed
2 Tablespoons fresh lemon juice
2 teaspoons fresh lemon zest
1 Tablespoons poppy seeds
1/4 teaspoon cinnamon
1/8 teaspoon sea salt (or regular salt)
Mix all salad ingredients together in a large mixing bowl. Mix all dressing ingredients together in a small bowl. Whisk until smooth. Pour dressing over salad and toss so everything is evenly coated.
You can either mix the lettuce into the above mixture, or serve above mixture on beds of lettuce. Either way, it's wonderful! 🙂
Transfer salad to a pretty salad bowl.
Just before serving: Place some dollops of sweetened whipped cream over the top of the salad. Dot each dollop with a maraschino cherry (or fresh cherry.)
Serve immediately or refrigerate for up to 4 hours prior to serving.
Enjoy!
~Melissa
You may enjoy these related posts: