Print Friendly Version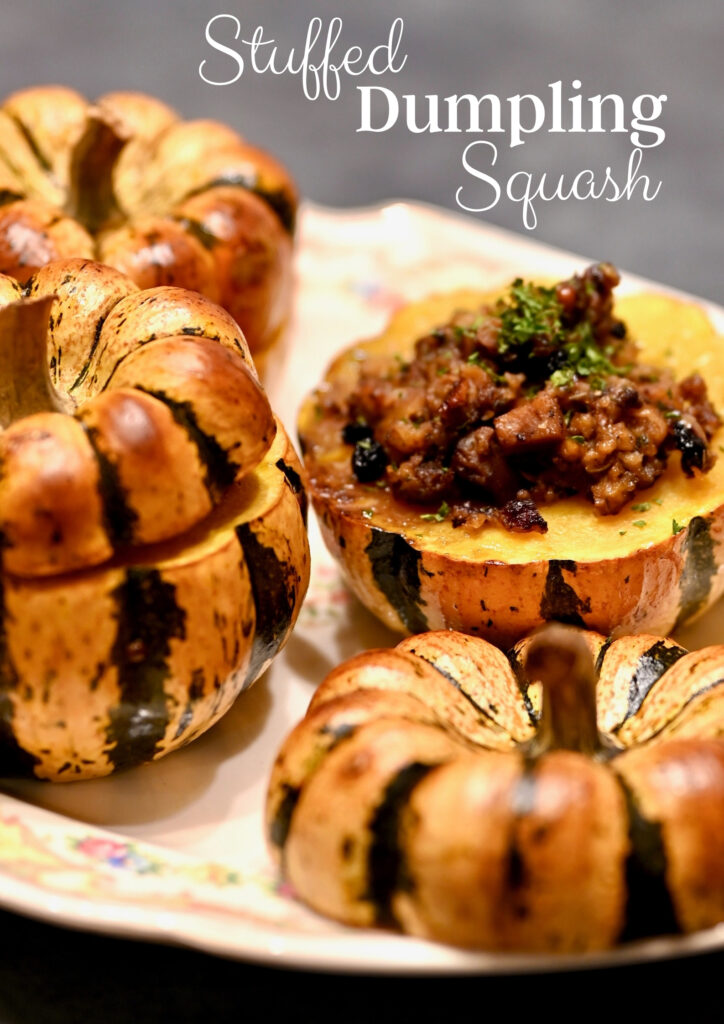 Here's a cute, different way to serve stuffing and squash for your holiday meals. Each person gets their own little stuffed dumpling squash. It's definitely a more elegant presentation, and delicious too!
I know this looks pretty fancy, but that doesn't mean it's complicated. Level up your stuffing game and give it a try.
This recipe is vegan, and before I get a bunch of messages… Yes, the "pork" flavored Stove Top Stuffing is also vegan, although the title is understandably a bit confusing.
I used dried blueberries in this recipe, but you could use dried cranberries, sultanas, or raisins if you wish. Dried apricots or figs might be good too.
~Preheat oven to 400 degrees F. ~
6 dumpling squash (each approximately the size of a grapefruit)
2 apple sage Field Roast sausages
1 box "pork" flavored Stove Top Stuffing
2 Tablespoons vegan butter or olive oil
1/2 cup chopped pecans
1/2 cup finely chopped onions
3/4 cup chopped apple
1/2 cup finely chopped celery
1/2 cup dried blueberries (or your choice of dried fruit)
2 large cloves garlic, minced
1 Tablespoon pure maple syrup
1 teaspoon dried thyme leaves
1 teaspoon dried parsley
1 teaspoon fennel seeds
1/4 teaspoon dry, rubbed sage
1/4 teaspoon nutmeg
1/8 to 1/4 teaspoon black pepper or cayenne pepper
Cut off tops of each squash and set the tops aside. Hollow out the squashes and discard the seeds. Rub insides with a little butter and sprinkle with salt and pepper. Set aside.
Chop up the Field Roast Sausages, pecans, apples, onion, and celery. Heat the butter/olive oil in a large skillet. Once hot, saute the chopped ingredients until tender and fragrant, (approximately 5 minutes.) During last minute of cooking, add the minced garlic and spices. Stir in maple syrup and dried blueberries. Remove from heat. Set aside.
Prepare stuffing according to package directions.
Once the stuffing is done, mix it with the contents in the skillet. Stuff each of the prepared dumpling squash. Cover with the "lids." Place on a large baking sheet that has been lined with a Silpat mat or cooking parchment. Bake in preheated oven for 1 hour or until very tender and golden brown.
You may have some stuffing left over.
Enjoy!
~Melissa
You may enjoy these related posts: