Print Friendly Version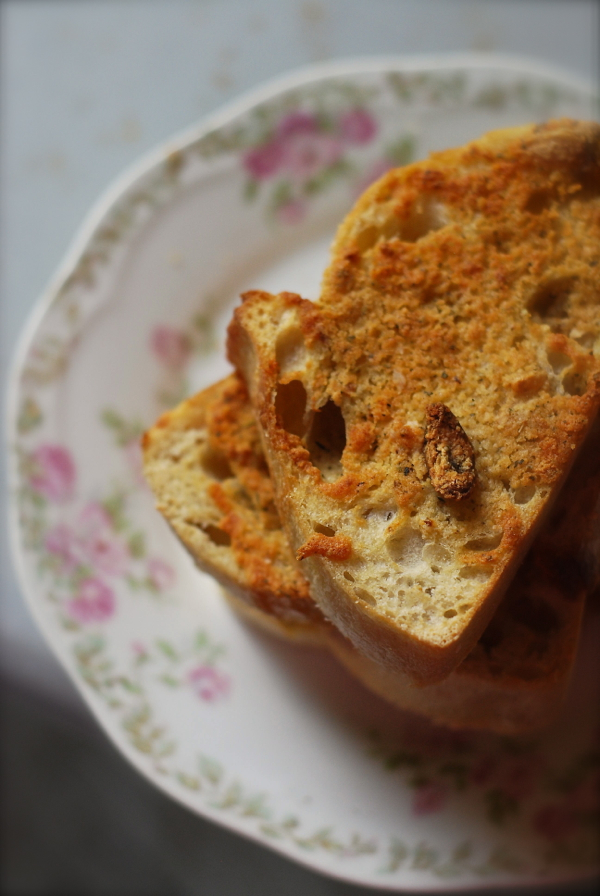 Happy Friday! We're busy wrapping up work stuff so we can start enjoying our weekend. We're gearing up to do a wedding photo shoot in exactly one week which will be new territory for our photography business. SO excited!
Here's a yummy recipe for garlic toast. I created this recipe for the Magic Bullet Blender, but you could certainly use your food processor if you don't have a Magic Bullet, or if you'd like to make a bigger batch of the garlic topping.
I love how all of the ingredients blend together and impart a mellow, delicious, garlicy flavor for this crunchy toast. This would be perfect for a Friday night soiree on your deck…just buy your favorite cheeses, a variety of fruits and berries, and a good bottle of wine. Voila….dinner is served.
In the Magic Bullet's large cup, combine:
1/4 cup softened butter
1 large head oven roasted garlic, cooled and all skins removed
1 teaspoon dry Italian seasoning, or 1 Tablespoon fresh oregano, chopped
2 dashes cayenne pepper
1 teaspoon onion powder
1/4 cup grated Parmesan cheese
3 Tablespoons extra virgin olive oil
Mix all in Magic Bullet until evenly combined and still a little chunky. Spread evenly over 6, thick-cut slices of rustic country bread or sourdough. Place in one even layer on a small cookie sheet and bake at 350 degrees F. until golden and slightly bubbly.
Enjoy!
~Melissa
You may enjoy these related posts: