Print Friendly Version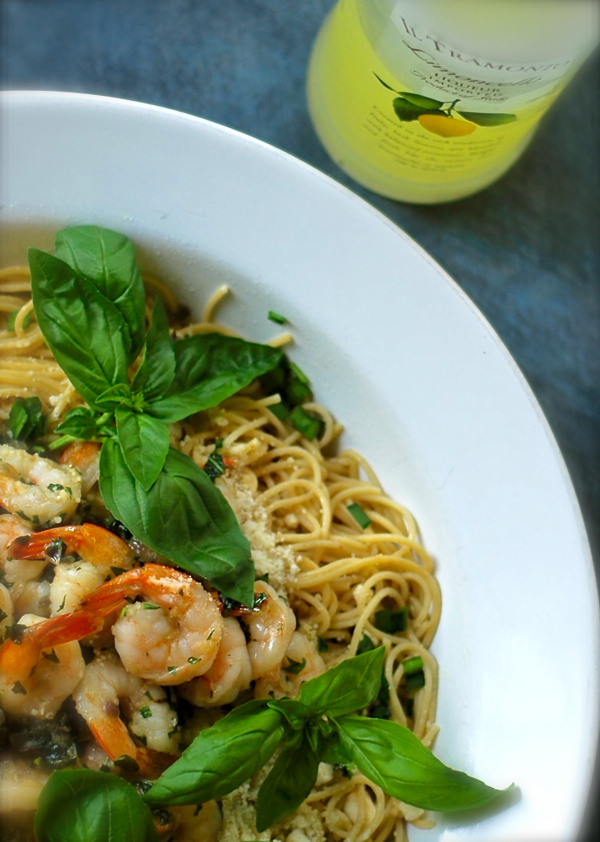 Here's a recipe that was created by my dear friend, and professional chef, Ruth Moser. She was the baker in residence at the first tearoom I worked for and is one of the most talented cooks I know. She served this when Jeff and I were dinner guests in her home.  It's a delicious, truly unforgettable dish!
~Ruth's Limoncello Shrimp & Spaghetti~
Serves 4-6
8 to 12 oz. spaghetti cooked "al dente"
2 pounds (26-30 raw) shrimp, peeled and deveined
1/4 cup extra virgin olive oil
2 large garlic cloves, pressed
1 bunch green onions, diced OR 1/2 cup purple onion, chopped
course sea salt and freshly ground black pepper, to taste
2/3 cup Limoncello liqueur + more for drizzling
1/4 cup fresh basil, minced
1/4 cup melted, unsalted butter
1 cup fresh grated Parmesan cheese + more for sprinkling
snipped, fresh chives
In a large saucepan, cook spaghetti according to package directions. Drain, rinse and toss with a little olive oil and half of the limoncello. Cover and set aside.
In large sauté pan, place olive oil and onions. Sauté on medium high heat for three to five minutes or until tender. Add garlic, shrimp, salt and black pepper. Sauté until shrimp is light pink and almost cooked through, about 5 to 10 minutes. Add remaining half of Limoncello. Stir.  Add minced basil and butter. Stir. Place this sauce and shrimp on the pasta in the big serving bowl. Top with Parmesan cheese and a few more grinds of fresh ground black pepper. Drizzle extra limoncello over the top and a little extra Parmesan cheese, if desired. Garnish with extra basil sprigs and fresh snipped chives for a pretty presentation. Toss everything together and enjoy with your favorite white wine!
~Melissa
You may enjoy these related posts: