Print Friendly Version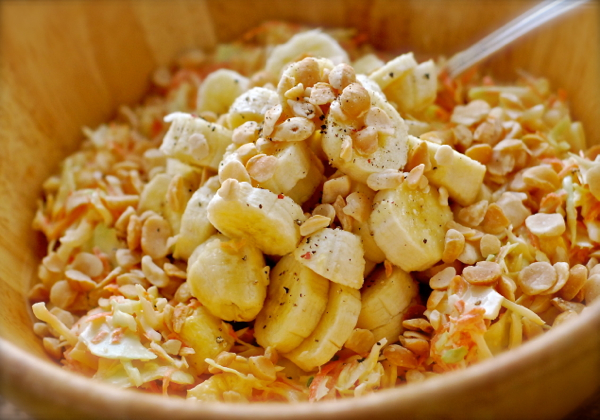 We absolutely adore this creamy, sweet slaw as part of our Easter celebration every year. The creaminess of the bananas and the crunch from the macadamias make this tropical treat extra special. This is sooooo good with honey baked ham!
10 oz. coleslaw blend (approximately 4 heaping cups shredded cabbage)
1 cup shredded carrot
1 and 1/2 cup fresh pineapple, chopped (or canned, squeezed almost dry)
1/2 cup real mayonnaise
1/2 cup sour cream
1 to 2 Tablespoons honey
3 bananas, peeled and sliced
1/2 cup chopped macadamia nuts
flaked coconut (optional)
salt and pepper to taste
In a large salad bowl, combine: coleslaw, carrot, pineapple, mayonnaise, sour cream and honey until mixed well. Slice bananas and place on top of slaw in center. Sprinkle the macadamias and optional coconut flakes over the top of everything. Salt and pepper to taste. Serve.
Enjoy!
~Melissa
You may enjoy these related posts: