Print Friendly Version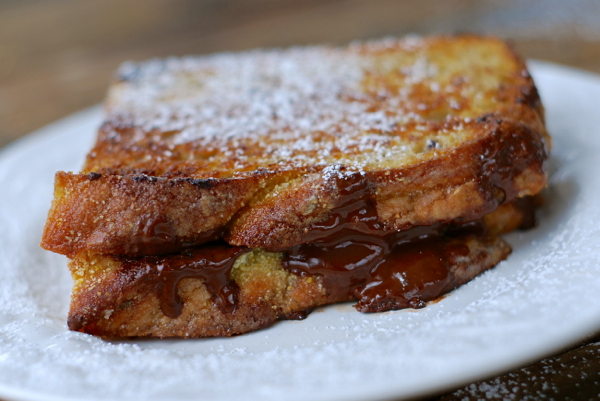 Bread and chocolate are two of my favorite things to eat. I love my bread super fresh, crusty and buttery on the outside with a soft chewy crumb interior. And I like my chocolate to be Belgian. My dear friend, Dolores, travels to Belgium once a year and sweetly sends me a chocolate care package filled to the brim with the best chocolates the world has to offer. I feel so spoiled! SUCH a fun treat. I used my last Belgian chocolate bar yesterday while creating this simple, decadent dessert. It's simply bread toasted in a skillet with Irish butter and filled with melted, dark chocolate. So easy and beautiful. One of these will easily feed two or three people because they're very rich.
for one toasted bread & chocolate dessert sandwich:
2 good quality, super fresh slices artisan bread
1/4 cup of the best dark chocolate you can find, chopped
cinnamon
coarse sea salt
1 to 2 Tablespoons Irish butter (or your favorite unsalted butter)
powdered sugar for garnish
Slice bread fairly thin. Generously butter each slice on one side (as you would for a grilled cheese sandwich.) Place one of the slices, butter side down, in a moderately hot skillet.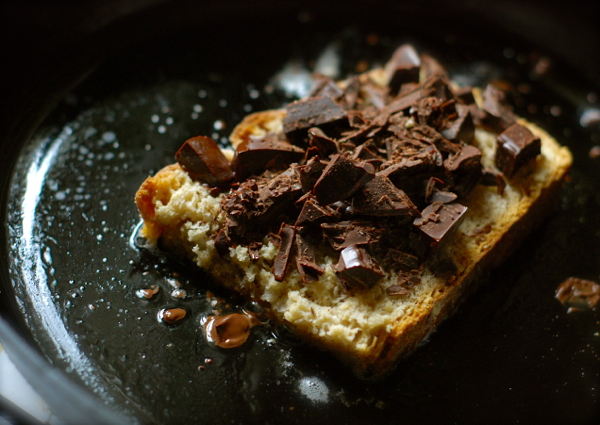 Top with the chopped chocolate and a sprinkling of cinnamon and coarse sea salt.
Place the other slice of bread on top, butter side up. Once toasted on the bottom, flip the sandwich over so it can get toasty on the other side. Adjust heat under skillet so the chocolate has a chance to melt completely without the bread burning. Once chocolate is melted and bread is toasted and golden brown on both sides, plate the sandwich. Cut into pieces and sprinkle the top with a little powdered sugar. This is especially nice served with a cup of rich French press coffee, a hearty cup of black tea or a dessert wine featuring raspberries (such as Framboise Infusion of Raspberries by Bonny Doon.)
Enjoy!
~Melissa
You may enjoy these related posts: