Print Friendly Version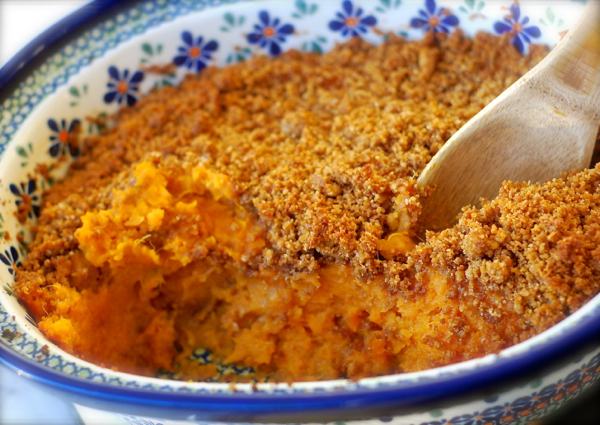 As much as we love the classic sweet potato casserole with toasted marshmallows on top, once in awhile we like to change it up a bit. This year I decided to add the wonderful crunch of buttery oatmeal cookies to our sweet potatoes, and OH MY! They were amazing. So good with turkey and ham! This casserole is the perfect accompaniment to any holiday meal!
for the casserole:
5 to 7 large sweet potatoes, peeled and cubed
1/4 cup melted butter
1/2 cup apricot or peach jam
1/4 cup orange juice
1/4 cup dark brown sugar, packed
1 teaspoon salt
1 teaspoon ground ginger
1/4 teaspoon nutmeg
Cover prepared sweet potatoes with water in a large, heavy pot such as a Dutch oven. Bring to boil. Reduce heat and cook potatoes just until tender (15 to 20 minutes.) Drain well.
Mash well. Add butter, jam, orange juice, brown sugar, salt, ginger, and nutmeg. Mix well. Transfer to a well-buttered casserole dish (or a 9×13 baking pan.)
for the cookie crunch topping:
12 large oatmeal cookies
6 to 8 Tablespoons butter, melted
Place cookies in a food processor and pulse until coarse crumbs form. Transfer crumbs to a bowl and add the melted butter. Mix well and sprinkle evenly over the sweet potatoes in the casserole pan.
Bake, uncovered, at 400 degrees F. for 20 minutes, or until golden brown around the edges and hot all the way through. Allow casserole to stand for 20 minutes before serving.
Enjoy!
~Melissa
You may enjoy these related posts: