Print Friendly Version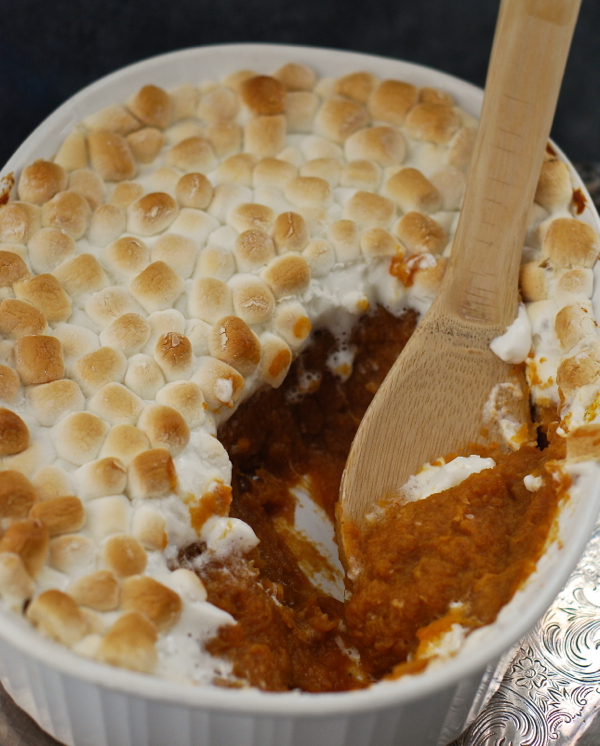 What a lovely afternoon at the Red Wing Holiday Stroll… so many fun things to do and see. I will tell you all about it tomorrow. I took tons of photos.
Here's my rendition of the traditional, southern-style, sweet potato casserole with toasted marshmallows. I'm sure you've all made this a gazillion times, but this was my first! Can you believe it? And I call myself an American. hee hee… Seriously though, this was awesome. It honestly tasted more like a dessert than a side dish, but was a perfect contrast to the buttery, gravy covered turkey, garlic mashed potatoes, cornbread stuffing, tart cranberries and cold, crisp tossed salad. I think I'm in love.
~ preheat oven to 375 degrees F. ~
3 to 4 lb. sweet potatoes. peeled and cut into 1 inch chunks
1 teaspoon coarse sea salt
1/4 teaspoon white pepper
1/3 cup whole milk
5 Tablespoons real butter
1/2 teaspoon nutmeg
1/2 teaspoon ground ginger
1/2 teaspoon cinnamon
1/8 teaspoon ground cloves
1/3 cup real maple syrup
1 teaspoon pure vanilla extract
10 oz. mini marshmallows
Boil the sweet potato chunks until fork tender. Drain well and place in the bowl of your tabletop mixer. Add everything but the marshmallows and beat until whipped and smooth.
Transfer to a 2 quart casserole pan and smooth with a rubber spatula. Top with the marshmallows. Place in preheated oven and bake until heated through and marshmallows are golden brown (15 to 20 minutes.)
Enjoy!
~Melissa
You may enjoy these related posts: