Print Friendly Version
This is a great sandwich to serve with tea at a girlfriends' lunch this time of year. Almost everyone seems to love the combination of flavors, and I'm always asked to write down the recipe.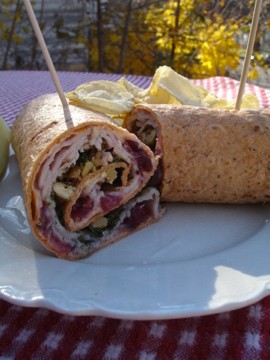 ~Thanksgiving Wrap~
(serves 6)
6 large, plain or flavored sandwich wraps
8 oz cream cheese, softened (you can use light cream cheese if you wish)
3-4 Tablespoons pure pumpkin puree
1 teaspoon honey
1/2 teaspoon pumpkin pie spice
1/4 teaspoon onion powder
1/4 teaspoon garlic powder
1 pinch ground sage
1 pinch nutmeg
thinly sliced smoked turkey
1 (15 oz.) can whole cranberry sauce
coarsely chopped walnuts
salt and freshly ground black pepper
dried parsley flakes
Combine softened cream cheese, pumpkin puree, honey, pumpkin pie spice, onion powder, garlic powder, sage and nutmeg in a small bowl until mixed well. Refrigerate until you're ready to assemble sandwiches. Spread each sandwich wrap with some of the pumpkin cream cheese. Top with thinly sliced turkey, then a little cranberry sauce, some chopped walnuts, a little salt and pepper, and finally some parsley flakes. Wrap tightly. Slice, and use a bamboo skewer or sandwich pick to secure the sandwich wrap until ready to eat. Arrange on plate and serve with kettle chips and a pickle spear.
Enjoy!
~Melissa
You may enjoy these related posts: