Print Friendly Version
Sometimes the most romantic dinners are the ones we make spontaneously. I love using fresh, simple ingredients! Tonight we had this delicious dinner that only took minutes to prepare. You can marinate your chicken for a whole day in advance if you like, but it's not necessary. I just happened to think of it yesterday as I was preparing another dish, so I whipped up a quick lemony concoction and let the flavors marry overnight. YUMMMM!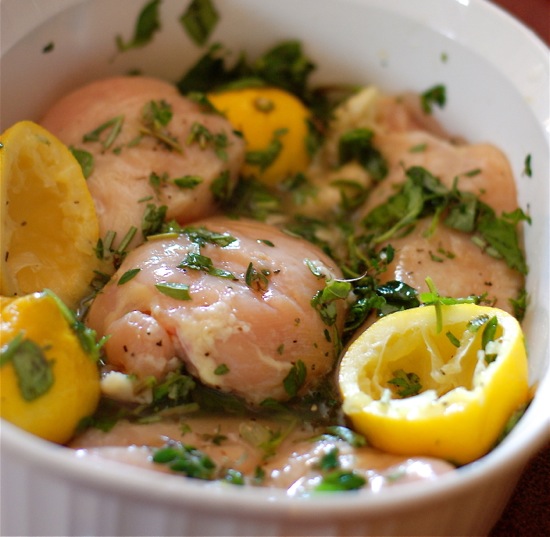 ~ lemon herb chicken marinade ~
4 boneless skinless chicken breasts
juice and zest of two lemons
1/3 cup honey
1/2 cup white wine
fresh basil, lemon thyme and tarragon chopped (about 1/2 cup)
1 teaspoon onion powder
salt and pepper
Combine all marinade ingredients. Pour over chicken and transfer all to all to a large ziploc bag. Place in a bowl in the fridge and marinate for 2 to 24 hours. Grill over charcoal or bake in a 350 degree F. oven until juices run clear.
to prepare pesto pasta:
Cook one lb. pasta according to package directions (until just al dente.) Drain well. Transfer to a large pasta bowl. Toss with 1/2 cup to 1 cup fresh basil pesto, 1/3 cup freshly grated Parmesan cheese, and lemon zest until well blended. Scoop into individual serving bowls and top with the grilled lemon chicken that's been cut into strips. Serve with fresh lemon wedges for squeezing over and chunks of fresh, Roma tomatoes, if you like.
Wine pairing ~ your favorite Sauvignon Blanc or Pinot Grigio
Enjoy!
~Melissa
You may enjoy these related posts: