Print Friendly Version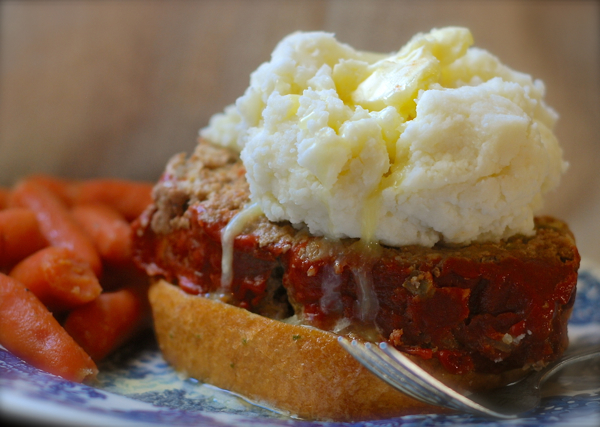 There used to be this little cafe in Red Wing that served all sorts of different stackers. Stackers, traditionally, are hot, sometimes open-faced sandwiches served with mashed potatoes and some sort of gravy or sauce. You eat them with a fork and knife.
Another stacker featured on my blog is a Thanksgiving Turkey Stacker.
Here's my latest. Meatloaf served on Texas garlic toast, with mashed potatoes and butter. If you want to add extra ketchup I won't tell anyone.
for one meatloaf stacker:
1 thick piece Texas-style (thick) toast, I used garlic
1 thick slice of your favorite meatloaf with ketchup on it
creamy mashed potatoes
salt and pepper, to taste
a pat of real butter
Toast bread and lay it on a plate. Butter toast. Top with a heated slice of meatloaf. Drizzle with ketchup. Top meatloaf with a big scoop of hot, mashed potatoes. Sprinkle with salt and pepper, and top with a pat of butter. Serve with a salad or side of veggies.
For this stacker I used my Brown Sugar Meatloaf. (Click link for recipe.)
Enjoy!
~Melissa
You may enjoy these related posts: