Print Friendly Version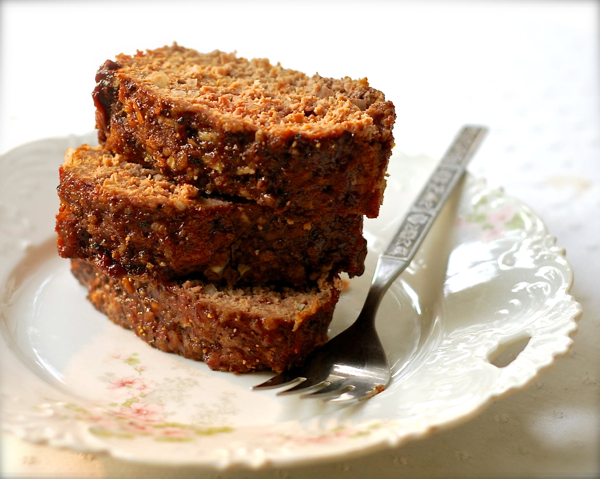 Meatloaf is the quintessential comfort food meal. It's just so darn good. We always serve ours with mashed potatoes and a simple, tossed salad. Chocolate pudding for dessert is the perfect ending to this perfect meal!
This particular meatloaf cooks in brown sugar, ketchup and BBQ sauce. The cooking method I share below yields a deliciously sweet and savory glazed meatloaf. You're in for quite a treat!
~ preheat oven to 375 degrees F. ~
1/2 cup brown sugar + 2 Tablespoons
1/4 cup ketchup
1/4 cup sweet, smoky BBQ sauce
2 lb. lean ground beef OR a mixture of beef, pork and veal
2 large eggs, beaten
3/4 cup buttermilk
1/2 cup onion, finely chopped
1/2 teaspoon garlic powder
3/4 cup dry breadcrumbs (I used Panko)
1/4 teaspoon salt
1/2 teaspoon freshly ground black pepper
Place 1/2 cup of the brown sugar in the bottom of a 9 x 5 loaf pan and press it firmly into an even layer. Gently spread ketchup and BBQ sauce over brown sugar. Mix ground meat, eggs, buttermilk, onion, garlic powder and breadcrumbs together in a large mixing bowl. Mix well using your hands. Form into a loaf and place in in the loaf pan over the brown sugar and sauces. Sprinkle the remaining brown sugar, salt and pepper over the meat loaf. Bake for one hour in preheated, 375 degree oven. Remove from oven. Remove juices from pan and pour into a bowl. Allow loaf to rest in pan for 10 minutes before transferring to a platter to slice. Serve with desired side dishes and a little spoonful of the cooking juices over each piece of meatloaf.
Enjoy!
~Melissa
You may enjoy these related posts: