Print Friendly Version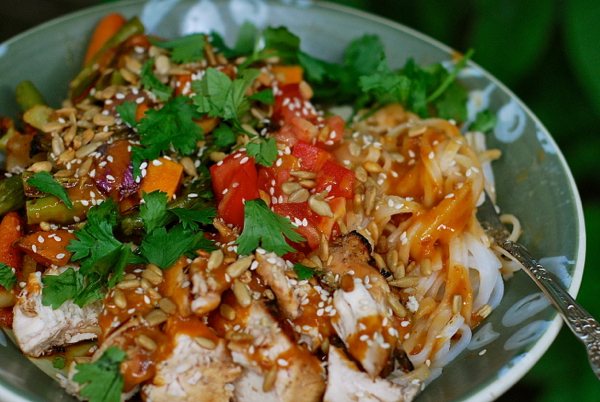 We're on a bowl kick! We can't seem to get enough of them. Grain and protein bowls are a great way to incorporate lots of fresh vegetables and lean protein into your diet. You can choose your favorite grain or pasta, your favorite lean protein, and jazz it up with a yummy sauce. The possibilities are endless. To oven roast the veggies: wash and cut into pieces of equal size. Toss them with a little olive oil, salt and pepper. Place them in an even, single layer on a baking sheet in a 425 degree F. oven until crispy and tender (approximately 20 minutes.)
I've seen lots of recipes for Buddha Bowls. Here's my interpretation.
for 4 Buddha Bowls:
4 cups prepared Thai rice stir fry noodles, quinoa or brown rice
2-4 cups oven roasted vegetables (I used sweet potato, carrots, asparagus and onion)
4 (6 oz.) grilled boneless skinless chicken breasts, cut into strips
1 cup sunflower seeds
Buddha sauce (recipe below)
1 cup chopped fresh cilantro
1 large, fresh tomato, chopped
lemon wedges for squirting over tops of bowls
toasted sesame seeds for sprinkling over tops of bowls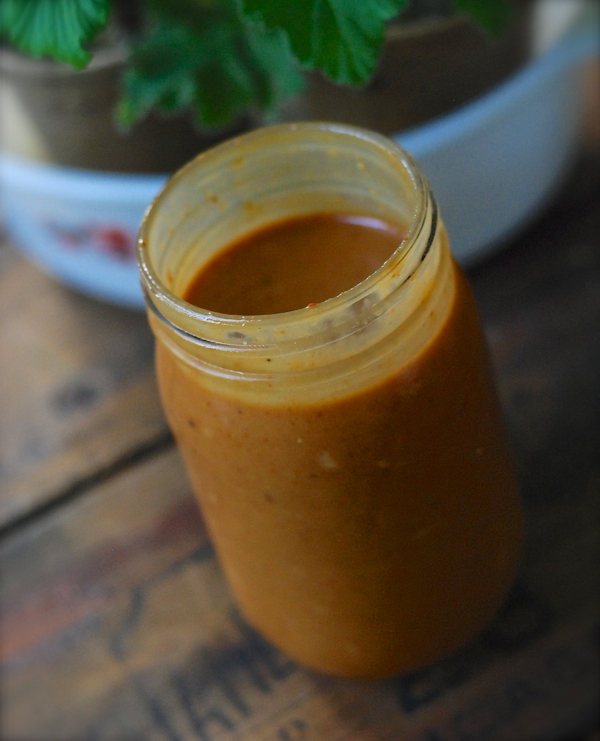 for the Buddha Sauce:
1/3 cup of your favorite Teriyaki sauce
1/4 cup rice vinegar (I use unseasoned, no salt added)
1 Tablespoon of your favorite BBQ sauce
1 Tablespoon dark sesame oil
heaping 1/4 cup creamy peanut butter
1/4 cup water
2 Tablespoons honey
2 Tablespoons Sriracha hot sauce
1 teaspoon minced, jarred garlic
1 teaspoon juice from the jarred garlic
1 Tablespoon grated fresh ginger
Mix ingredients for the Buddha sauce in a large bowl. Whisk until evenly combined and smooth. Transfer to a canning jar and refrigerate until ready to use.
Prepare the rest of the ingredients as directed above, and divide them evenly among 4 large, shallow single serving bowls. Drizzle Buddha Sauce over each bowl, to taste.
Serving suggestion : Buddha Bowls are wonderful with hot Genmaicha tea or iced jasmine tea.
Enjoy!
~Melissa
You may enjoy these related posts: