Print Friendly Version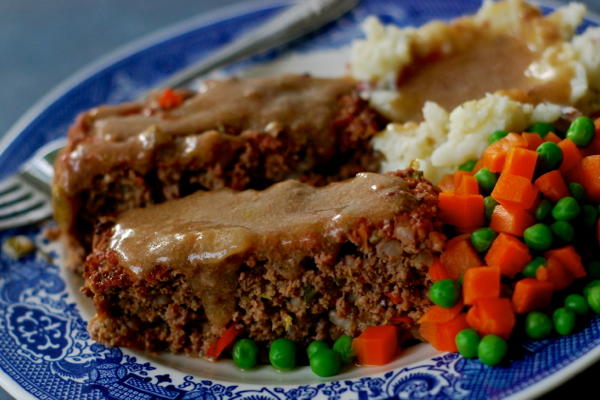 You can never have too many awesome meatloaf recipes. There are so many different varieties, flavors, meats and gravies to choose from. The possibilities are endless!
Here's one that hails from a famous New York institution called Serendipity 3. Serendipity 3 is located on the Upper East Side close to Bloomingdale's. Their ice cream parlor is known for their rich, decadent, frozen cappuccinos and frozen hot chocolate, but their blue plate special menu boasts an absolutely fantastic, moist meatloaf that's served with mashed potatoes, *gravy, peas & carrots. Oh, and don't forget the Jell-O for dessert!
*I made a gravy using the drippings from the meatloaf itself, but your favorite brown gravy will definitely do!
~ preheat oven to 375 degrees F. ~
2 large eggs
2 cups beef broth
1 cup ketchup
1/2 cup finely chopped, fresh flat leaf parsely
2 Tablespoons Dijon mustard
2 teaspoons dried rosemary, crumbled
2 teaspoons freshly ground black pepper
2 teaspoons garlic powder
1 and 1/2 teaspoons salt
2 cups finely chopped onions
1 large, heavy red bell pepper, finely chopped (1 and 1/2 cups)
1 cup finely chopped celery
3 to 4 oz. medium-sharp cheddar cheese, grated (3/4 cup to 1 cup)
2 and 1/2 to 3 lb. ground chuck (I used 3)
1 cup fine, dry seasoned bread crumbs
Position rack to middle of oven. In a large mixing bowl, whisk eggs. Whisk in broth, ketchup, parsley, mustard, rosemary, pepper, garlic powder and salt. Stir in onions, bell pepper, celery and cheese. Crumble meat over egg mixture, followed by the dry bread crumbs. Using your hands, mix gently but thoroughly until all ingredients are evenly incorporated. Transfer meat mixture to a large, glass, rectangular baking dish (I use one that measures 10 x 15.) Spread the meat mixture into the pan as you would a cake, smoothing the top with a spoon.
Bake uncovered for 1 and 1/4 hours, or until the top is crusty and well-browned and a meat thermometer reads 145 degrees F. when inserted into the center of the loaf. Allow loaf to stand at room temperature for 10 to 15 minutes prior to cutting it into pieces.
Cut into pieces and transfer pieces to a large serving platter. Cover with heavy duty aluminum foil while you make the gravy.
for the meatloaf gravy:
Drippings from meatloaf pan
2 Tablespoons butter
2 Tablespoons warm water
2 Tablespoons cornstarch
salt and pepper, to taste
Place meatloaf drippings in a medium saucepan. Heat until gently simmering. Add butter. Combine water and cornstarch in a cup, using a fork to whisk them together. Slowly add the cornstarch mixture to the bubbling gravy and whisk in, stirring constantly, until thickened. Salt and pepper to taste. Serve over meatloaf and mashed potatoes.
Enjoy!
~Melissa
You may enjoy these related posts: