Print Friendly Version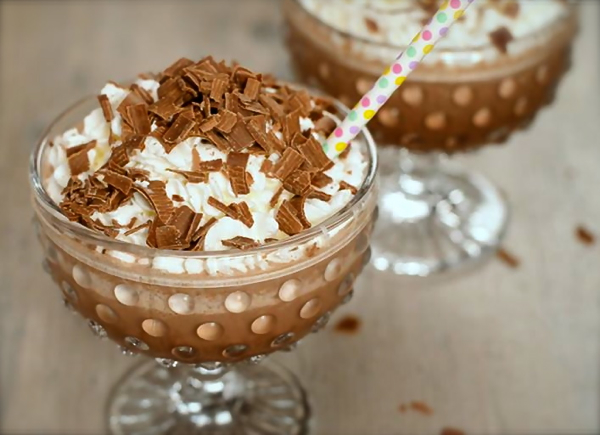 Serendipity 3 Frrrozen Hot Chocolate is just like a candy bar in a cup! Below I've listed the ingredients for my copycat version of the frozen hot chocolate from the famous Serendipity 3 in New York city. Use the best quality unsweetened cocoa powder you can find for this recipe. It really does make all the difference. And please, don't be tempted to use low fat milk. This is meant to be a rich, decadent, chocolaty indulgence!
for 2 frrrozen hot chocolates:
1/3 cup sugar
1/3 cup nonfat dry milk powder
1/4 cup unsweetened cocoa powder (I used Ghirardelli)
1/8 teaspoon salt
1 cup whole milk
3 cups ice
sweetened whipped cream (I used Redi Whip)
semi sweet or milk chocolate curls*
In a small mixing bowl, combine: sugar, dry milk powder, unsweetened cocoa, and salt. Mix using a wire whisk. Pour milk in blender, followed by the cocoa mixture, and then the ice. Blend until smooth. Pour into two glass goblets or large ice cream sundae bowls. Top with whipped cream and chocolate curls. Serve with cute straws.
*Note: To make chocolate curls, carefully run a vegetable peeler along the side of a semi sweet chocolate bar or milk chocolate bar. This works best if the chocolate is room temperature.
Enjoy!
~Melissa
You may enjoy these related posts: