Print Friendly Version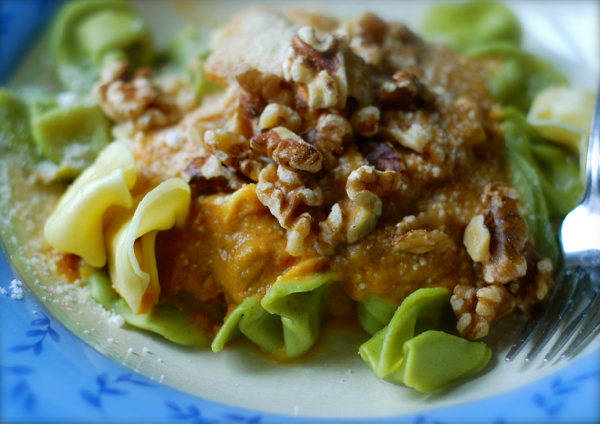 Mmmmmm! Cheesy tortellini pasta topped with a creamy, slightly spicy pumpkin sauce and crunchy walnuts! This easy, healthy recipe is a great way to welcome autumn and the upcoming school year. It goes together quickly and is perfect for busy days!
Note: To make this recipe vegan, simply substitute your favorite pasta for the cheese tortellini, and use vegan butter, vegan yogurt, and vegan parm in place of the dairy ingredients listed. Swap agave syrup for the honey. Easy peasy!
PS… This dish is wonderful with a simple tossed salad and sauteed garlicky green beans!
20 oz. refrigerated cheese tortellini OR your favorite pasta (bowties or rigatoni work well here)
15 oz. canned pure pumpkin puree
2 Tablespoons honey OR agave syrup
1/2 cup Greek yogurt
2 Tablespoons melted butter
2 Tablespoons Sambal Oelek (or your favorite hot sauce)
2 Tablespoons Worcestershire sauce (or soy sauce)
1/2 teaspoon pumpkin pie spice
1/2 cup Parmesan cheese
1 teaspoon smoked paprika
1/2 teaspoon rubbed sage
chipotle powder or cayenne pepper, to taste
chicken broth or vegetable broth (to thin sauce)
Cook pasta until al dente. Set aside and cover to keep warm. You can toss the cooked pasta with a little olive oil to keep it from sticking together while you prepare the sauce, if you wish.
Heat the pumpkin, honey, yogurt, butter, hot sauce, Worcestershire sauce, pumpkin pie spice, Parmesan cheese, paprika, sage, and chipotle/cayenne in a medium sauce pan. Heat through and whisk occasionally until smooth. Add a little chicken stock to thin your sauce to desired consistency. Heat through again.
Serve sauce over hot pasta and top with walnuts and a little sprinkle of Parmesan.
Enjoy!
~Melissa
You may enjoy these related posts: