Print Friendly Version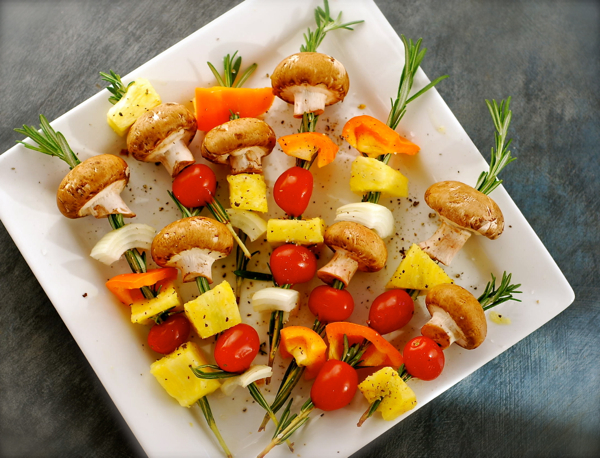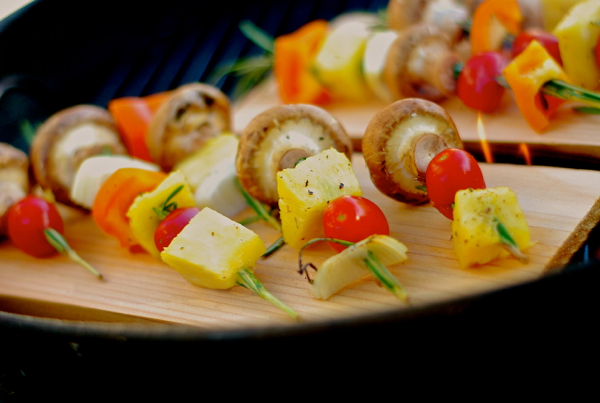 Using rosemary sprigs as skewers for grilling veggies/pineapple is such a fun idea! They're a beautiful addition to an al fresco meal, and the rosemary and cedar planking add beautiful, depthy, flavor layers to the vegetables. For even more awesome flavor, marinate your veggies in a combination of olive oil, spices, sugar, chopped garlic, salt, pepper and a splash of white wine for 2 to 3 hours prior to grilling.
I count on 2 or 3 skewers per person when serving these as an appetizer or side dish.
You'll need:
cedar planks for grilling
fresh rosemary sprigs
onion chunks
sweet bell pepper pieces
pineapple chunks
whole mushrooms
cherry or grape tomatoes
marinade (optional)
salt and pepper
Soak cedar planks according to package directions (we soaked ours for 30 minutes.) Skewer assorted veggies and pienapple on the rosemary skewers. Sprinkle with salt and pepper. Set prepared skewers on planks (3 or 4 to a plank.) Place on hot side of grill, cover and allow to cook until veggies reach desired tenderness (approximately 15 minutes, depending on the temperature of your grill.) These are especially wonderful when paired with Hawaiian cold ginger chicken, teriyaki chicken, teriyaki steak, or pork chops l'orange.
Enjoy!
~Melissa
You may enjoy these related posts: