Print Friendly Version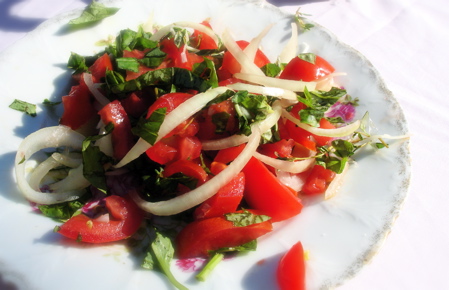 ~pizza pico~
In Mexican cuisine pico de gallo is a fresh, uncooked condiment made from chopped tomato and onion. Sometimes other ingredients are added, such as chili peppers, cilantro, citrus juice and even mango, but tomatoes and onion are always the base ingredients. Pico also contains less liquid than traditional salsa fresca.
Yesterday while we were preparing the homemade dough and toppings for grilled pizza I had the idea to make an Italian version of pico de gallo as a fresh pizza topping. I wanted it to taste kind of like bruschetta, but less juicy and with more fresh herbs than just basil. What I came up with was the perfect pico for pizza! You can add it to your pizza before or after grilling. I think you'll love the flavors that the fresh ingredients add to already wonderful grilled pizza.
3 plum tomatoes, seeds and juice removed, chopped
1/4 cup sweet onion, chopped
5 large, fresh basil leaves chopped,
a few sprigs fresh thyme, chopped
2 Tablespoons fresh oregano, chopped
2 Tablespoons fresh parsley, chopped
sea salt and fresh ground pepper to taste
Enjoy!
~Melissa
You may enjoy these related posts: