Print Friendly Version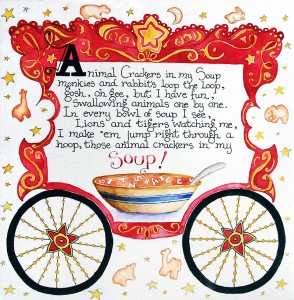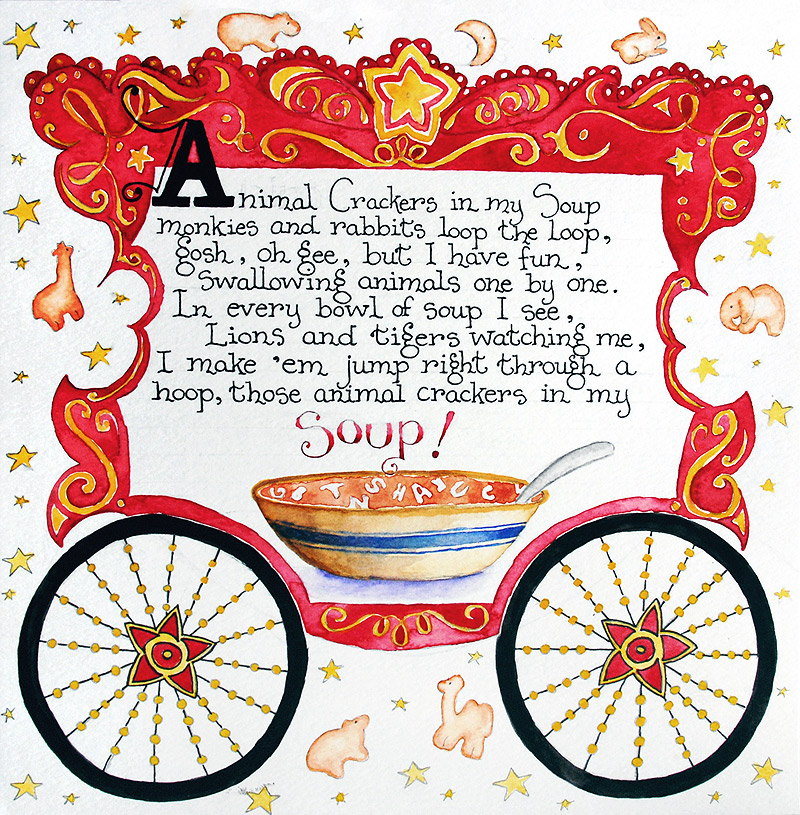 In honor of Mother's Day this past weekend, this recipe is for the kiddos (and you too!) Who doesn't secretly love to indulge in some of the comforting "nursery" foods from their youth? 🙂 In my opinion this dish can still be called "Spa Cuisine," because it is good for the body and soul.
This soup is a heavenly blast from the past. Your kids will love it…and it's full of vitamin C.
Also, I hope you all enjoy the illustration. It is the first original painting by me that has been released since my illustrations and cover design for the book "Fearless Pregnancy" that was published in 2004 by Fair Winds Press. It is called "Animal Crackers in My Soup!" and may become available in print form sometime this year.
Alphabet Soup
1 lb. pre-cooked mini meatballs
2 Tablespoons extra virgin olive oil
1 cup finely chopped onion
1 cup finely chopped celery
1 cup carrots, cut into "coins"
1 cup peeled, diced potato
1 teaspoon minced garlic
4 (14 oz. cans) organic chicken broth
1 (28 oz. can) organic tomato sauce
1 (6 oz. can) organic tomato paste
1/4 cup minced parsley
2 Tablespoons organic, dried, Italian seasoning
3/4 cup uncooked alphabet pasta
Heat mini meatballs in a skillet until heated through. Set aside. In a large soup pot or dutch oven, saute the onion, celery, carrots and potatoes in the olive oil for 5 minutes. Add garlic; saute for 1 more minute. Add broth, tomato sauce, tomato paste, parsley and Italian seasoning. Bring to a boil. Lower heat to a simmer. Add pasta and cook for 5 minutes. Reduce heat to low, add meatballs and allow to simmer, uncovered for 15 minutes or until veggies and pasta are tender.
"Soup of the evening, beautiful soup!" -Lewis Carroll
You may enjoy these related posts: