Print Friendly Version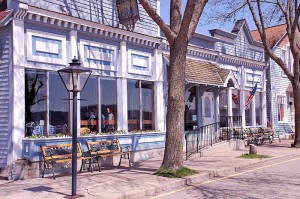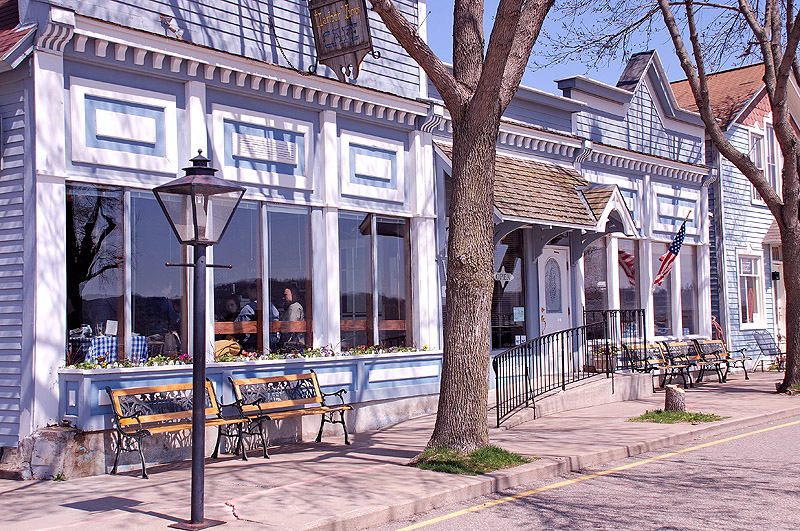 Last weekend the sun was shining and we were experiencing the first beautiful weather in the Minnesota/Wisconsin area that we had seen in months. Time to venture outside! We decided to seize the opportunity and set out on a short road trip over the Wisconsin/Minnesota border. The Great River Road led us to one of our favorite restaurants, The Harbor View Cafe in the charming village of Pepin Wisconsin. We usually treat ourselves and our daughters to a lunch here a couple times a year, and are never disappointed.
The Harbor View Cafe isn't fancy. It's blue and white checkered table cloths, rustic knotty pine paneling and walls lined with old books add to the restaurant's warm atmosphere. The ambiance is both romantic and family friendly. The perfect place to dine if you want to enjoy a beautiful drive and eat some of the best food you've ever tasted. Minneapolis St. Paul Magazine has voted this quaint cafe the "Best Day Trip/Destination Drive Restaurant" year after year, and for good reason. The New York Times said:
Wisconsin's Beguiling Back Roads
By R. W. APPLE JR.
Published: June 30, 2003

"TRAILING the candidates through the key primary states as a political correspondent many years ago, I decided that, California aside, I liked Wisconsin best. I respected its political creativity, especially under the La Follettes, who prefigured the New Deal. I grew fond of its rich, bucolic landscapes — the red barns, the black-and-white cows and the fields of lime-green grass interrupted by bands of chocolate-brown earth.

I also learned to admire Wisconsin's people. They are a well-educated lot, modest, public spirited, committed to preserving the environment and intensely proud of their ethnic heritage. The gravestones in the Catholic churchyard at Independence, near Eau Claire, could be in Warsaw: Woychik, Kowalski, Klimek and Jaszewski.

The Danish-Americans of Racine still eat the buttery kringles turned out by local bakeries, which put the "Danish" pastry New Yorkers eat to shame. The Swiss and the Dutch make superb cheeses (and Green Bay Packers fans wear blocks of foam rubber cheese on their heads). The Germans wolf down sausages of a hundred different varieties.

What Midwestern heart could resist? Certainly not mine, and over the years my wife, Betsey, a devout Southerner, has come to share my enthusiasm. So when a hole opened in our schedule, we decided to take a breather and drive across Wisconsin from Minneapolis to Milwaukee. On the Interstate, the run takes eight hours, but we opted for byways, wandering unhurriedly for four days in search of pleasures recalled and anticipated.

As we drove along the Wisconsin shore of the young but already broad Mississippi River southeast of Minneapolis, admiring the willows in their gauzy early-spring foliage, it started to snow. Big, wet flakes. In April. Steam rose from the marshes, and the shivering ducks acted as if they had been cruelly misled by the weatherman.

That's the way life goes in the Upper Midwest. When we stopped for dinner at the Harbor View Cafe in Pepin, the bartender, Durk Stark, made us a pair of mean martinis and told us it had been 91 degrees earlier in the week. "What can you do?" he said. Later we discovered that his wife was the town's Lutheran pastor, which must make for a nice balance in their household.

The restaurant is an unanticipated boon in the back of beyond, with a terrific wine list (five Ridge zinfandels, for example, and several Calera pinot noirs). The vegetable cooking is of a very high order (we had delectably lemony kale), and the blackboard menu offers pheasant raised just up the road, plus dishes you don't often see at your corner bistro, like Norwegian meatballs, made of pork and veal, in a sour-cream sauce flavored with cardamom."
On previous visits I have enjoyed sauteed Morel mushrooms piled high on thick, rustic, buttered toast, bouillabaisse that boasted huge prawns, mussels, and other shellfish in a rich saffron broth, and soft shell crab that is still what I would consider the best meal I have ever eaten in the Minnesota/Wisconsin region. Their chocolate walnut pie and creme caramel are to drop over dead for. SO good!
On this last visit Jeff and Andie enjoyed huge portions of a decadent pork tenderloin that were "melt in your mouth" good. Gracie noshed a children's portion of the sundried tomato lasagna, and I was spellbound by the Hawaiian Swordfish (although it could have been a little warmer) served over a lemony kale and a side of chimichurri. Yum! They also have a spectacular wine list! I enjoyed a glass of Foley Chardonnay and a glass of Veramonte Sauvignon Blanc that I will elaborate on in my next posting of "Wine Tasting Notes." Tune in next week for these wine descriptions!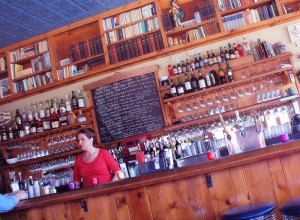 There are a couple of tiny "cons" that I have to mention. The Harbor View doesn't take credit cards or accept reservations. They have limited seating, so you have to take my word for it and know that although you will undoubtedly have to wait for a table, the fine cuisine will make the wait well worth it!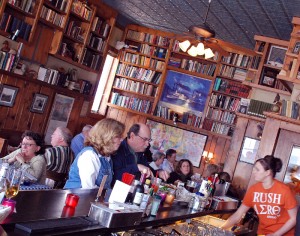 Fabulous food, kitchy atmosphere, and 5 star service. I'll be back!

You may enjoy these related posts: