Print Friendly Version
I would like to welcome Mary Parks of Skrapyram back to ChinDeep! She is here to share her North Shore fiber tour adventure with us!
Over the past several months, Tara, Ella, and I have gotten together once a week to knit and and talk about sewing.  But Ella has now finished the sabbatical she spent at the North American Bear Center and she is moving back to Indianapolis.  As the grand finale of our time together, the three of us decided to head down to the North Shore of Lake Superior for a day of yarn and fabric shopping and –  of course – eating.
Our first stop was Behind the Seams a quilt shop on Highway 1 in Silver Bay, MN.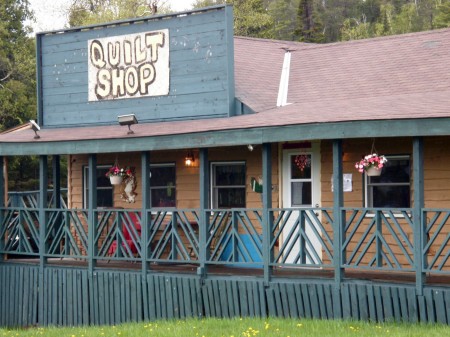 Owned by four sisters and their mom, the shop is right across the highway from Lake Superior, and it is just chock-full of pretty fabric!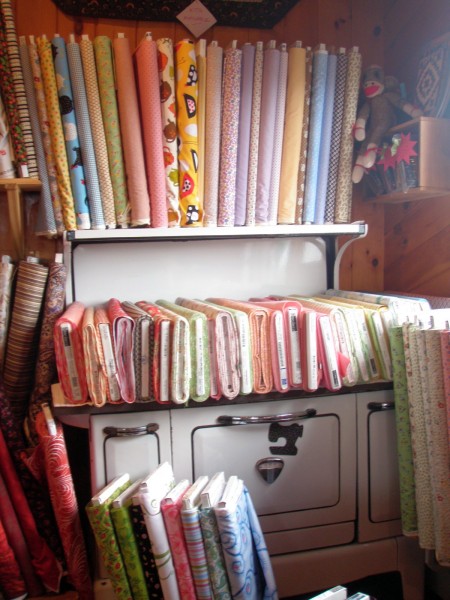 The two sisters who were working in the store on the day of our tour were very friendly and made our visit a lot of fun. They also told us about the Northern Lights Shop Hop – a tour of Minnesota, Wisconsin and Michigan quilt shops going on from May 16 to 29. Participants in the Shop Hop are eligible for prizes and there is an exclusive kit offered to "Shop Hoppers".
We would have loved to participate in the Shop Hop, but we only had a little bit of time so we headed to the next stop on our itinerary: lunch at the New Scenic Cafe.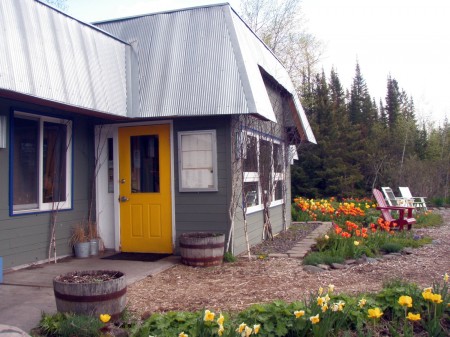 The New Scenic Cafe is located on the North Shore Scenic Drive, and with its amazing view, beautiful landscaping, friendly staff, and amazing food, it was probably the highlight of the day for me!  Did I mention the food?  The pistachio crusted goat cheese salad was to die for!  The restaurant's menu changes with the season – check out the current one here.
Next up after lunch: Hannah Johnson Fabric in Duluth.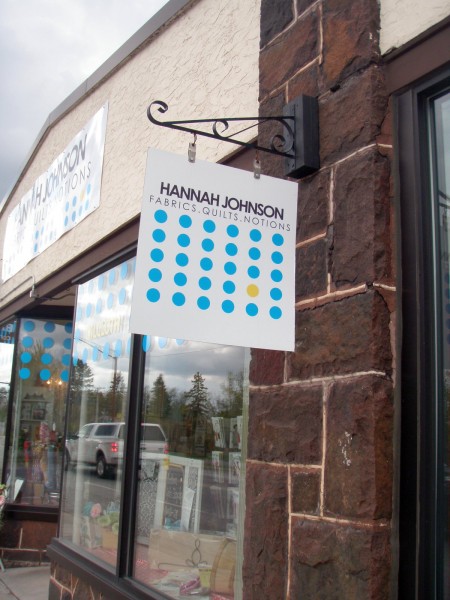 Hannah Johnson is a bright, modern store with so much fantastic fabric to choose from that I had to have Tara and Ella help narrow down my pile.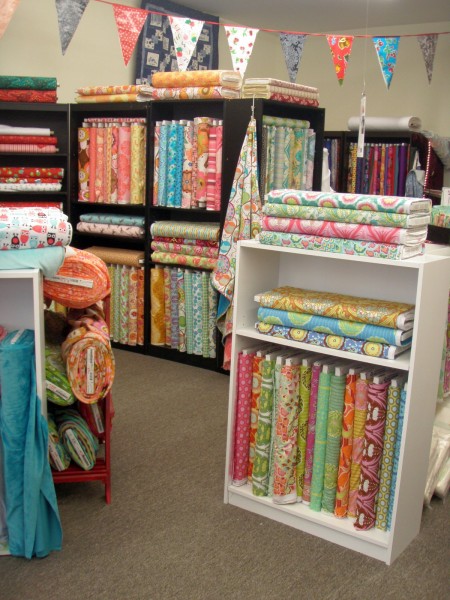 Even after I had paid my bill, I found more fabric that I simply had to have  – so I headed back to the cutting table! Like Behind the Seams, Hannah Johnson is participating in the Northern Lights Shop Hop.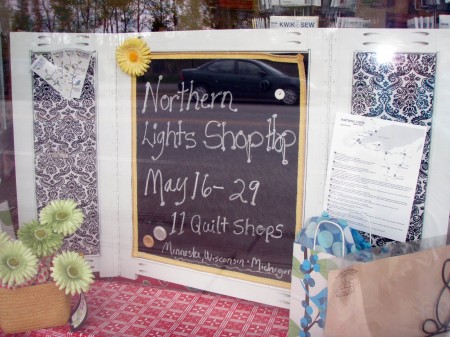 After Hannah Johnson, it was once again time to refuel, so it was on to the PortLand Malt Shop along the Lake Walk in Duluth.
I had a malt with dark chocolate ice cream and peanut butter: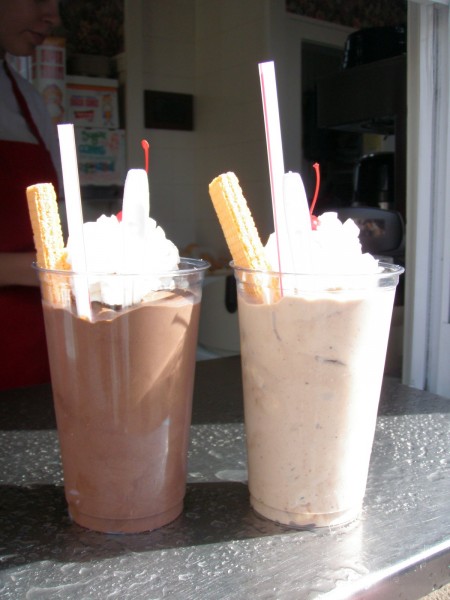 We ate outside overlooking the lake.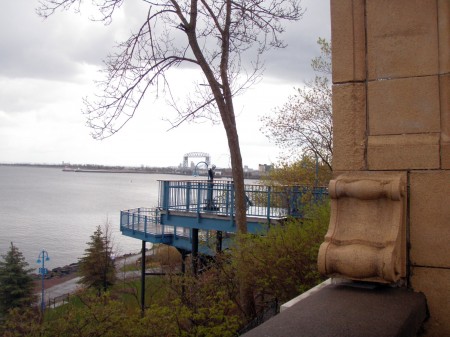 Yum, yum!
The last stop of the day was Yarn Harbor, another bright and well organized shop with a very friendly staff.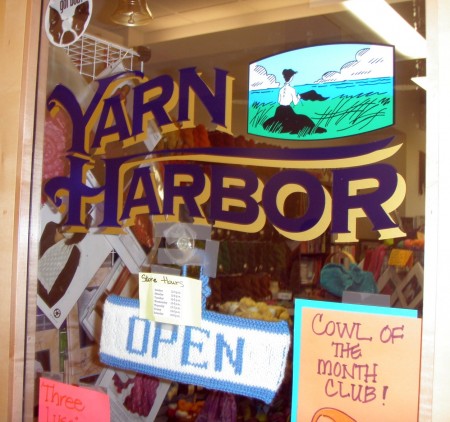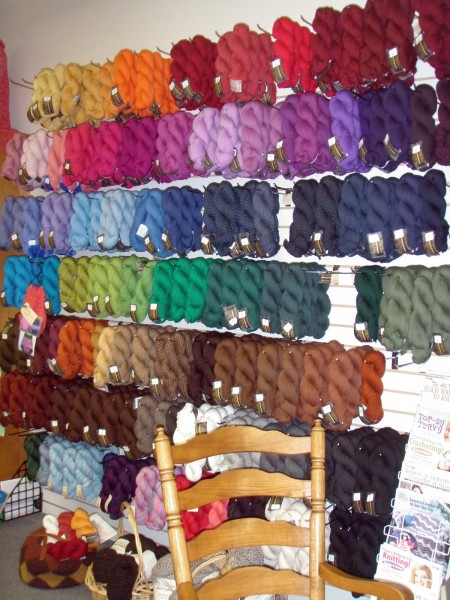 They also had a large selection of buttons and a lovely area to sit and knit –  or spin as the case may be.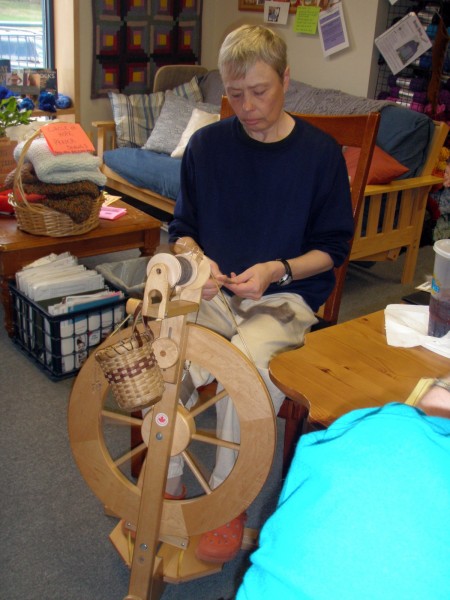 If ever find myself in Duluth on a Tuesday night this summer, I will definitely join the Yarn Harbor folks for Beach Knitting!  In fact, that might even be worth a special trip.
I am sad the Ella will be leaving us, but I am glad that we had the opportunity to get to know each other over our shared love of knitting and sewing – and that we had a chance to go on our North Shore Fiber Tour adventure!
I recommend all of these stops to anyone visiting the North Shore.  Heck, why not take a few days off and get in on the Shop Hop?  You've got until May 29th!
Happy Trails,
Mary Parks
aka skrapyram
http://www.skrapyram.com/
You may enjoy these related posts: