Print Friendly Version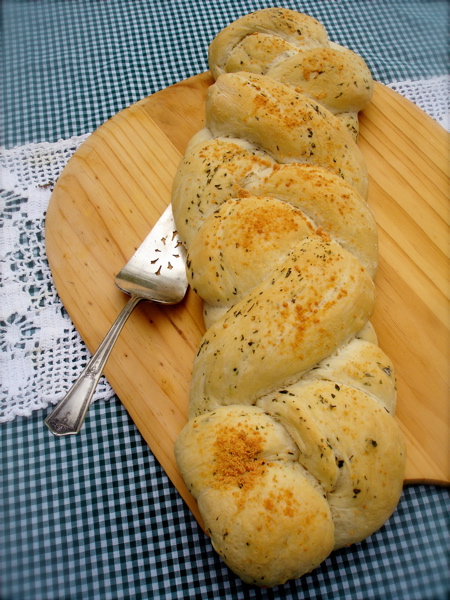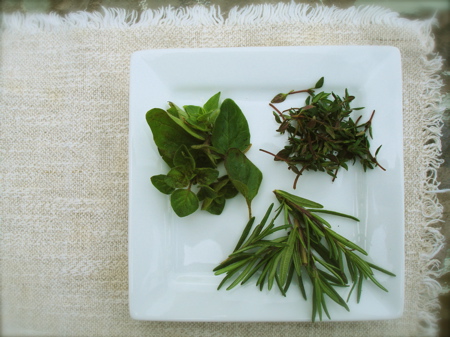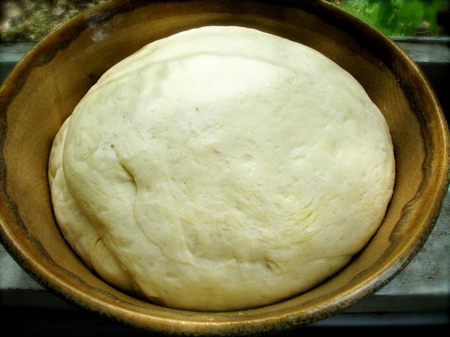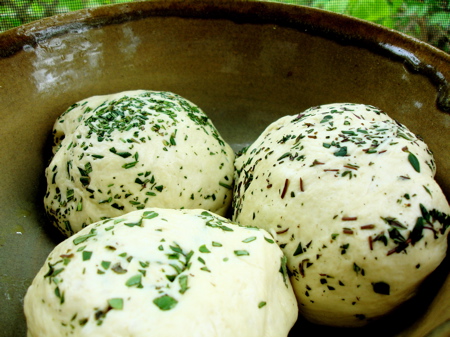 ~twisted herb bread~
This bread recipe produces a large loaf of fluffy white bread with a fine crumb. If you prefer a chewier, crustier bread just substitute your favorite recipe for the ingredients listed here. The main attraction of this bread is the different herbs added to each rope of the braid. I used fresh rosemary, thyme, and oregano.
preheat oven to 375 degrees F.
yield: 1 loaf
1 package active dry yeast
1 teaspoon sugar
1/4 cup warm water
1 cup water
1 Tablespoon butter, melted
1 teaspoon sea salt
3 to 4 cups all-purpose flour
1 Tablespoon snipped fresh oregano
1 Tablespoon snipped fresh thyme
1 Tablespoon snipped fresh rosemary
3 Tablespoons butter melted
Parmesan cheese, fresh grated or powdered
1) In a large bowl, dissolve yeast, sugar, 1/4 cup warm water and set aside for 10 minutes (until foamy.) Stir in the 1 cup water, the Tablespoon melted butter and salt. Beat in enough flour, 1/2 cup at a time, to make a slightly sticky dough.
2) Turn out dough onto a lightly floured surface, knead in enough of the remaining flour to create a dough that's smooth and elastic (about 8 minutes.) Shape into a ball. Place in a bowl that's been lightly coated in extra virgin olive oil, turning once to cover the surface of the dough. Cover with plastic wrap and set in a warm place for one hour or until doubled in size.
3) Punch dough down. Turn out onto a lightly floured surface and divide into 3 portions. Knead one of the fresh herbs into each of the portions so you have a rosemary ball, an oregano ball, and a thyme ball. Place back in bowl, cover and let them rest for 10 minutes.
4) Lightly oil a large baking sheet. Shape each portion of dough into a 20 inch long rope. Braid, pinch ends together and tuck each end under the loaf. Cover and allow to rise for 45 minutes.
5) Brush the top of the loaf with the 3 Tablespoons butter and sprinkle with the Parmesan cheese. Bake in a 375 degree oven for 30 minutes, or until golden brown. When the bread is done it will sound hollow when it's tapped on the top. Immediately remove bread from baking sheet and transfer to wire racks to cool completely.
Enjoy!
~Melissa
You may enjoy these related posts: