Print Friendly Version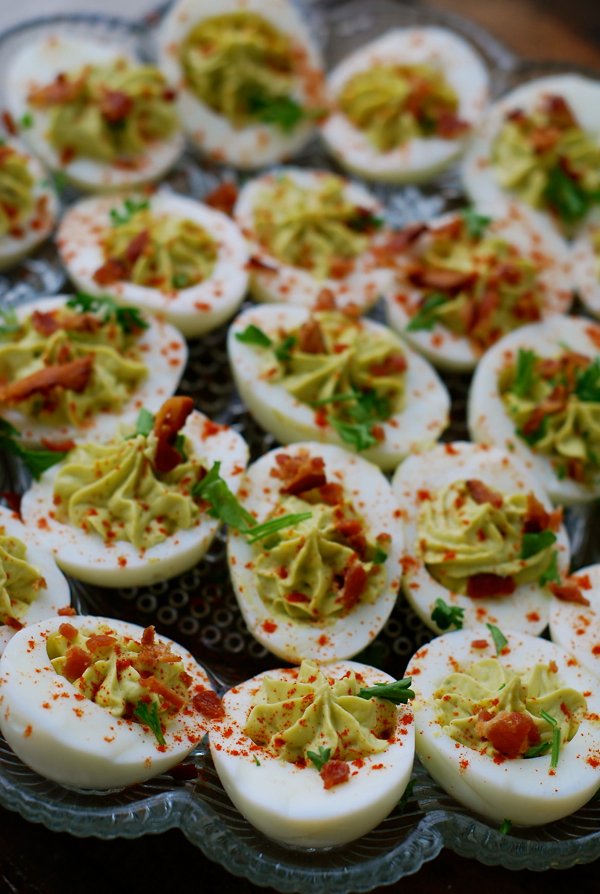 These deviled eggs are a new, healthier twist on the old, favorite classic. I make these for virtually every holiday and they also make an awesome addition to a breakfast, brunch or game day buffet!
This recipe makes extra deviled egg filling than you'll need to fill the eggs. I like to serve it in a pretty bowl surrounded by fresh veggies and chips. It tastes quite a bit like a smooth guacamole. I've also thinned out the extra filling with a bit of buttermilk and used it as salad dressing. Try to use it all up on the same day that you make it .
12 large, hard boiled eggs
2 perfectly ripe avocados
3 teaspoons fresh lemon juice
1/4 cup real mayonnaise
2 teaspoons Dijon mustard
salt and pepper to taste
smoked paprika
1/2 lb. bacon, fried until crispy, and cooled
3 Tablespoons fresh parsley, chopped
Sriracha hot sauce (or your favorite hot sauce)
Hard boil eggs. Peel and then chill the eggs in the refrigerator until you're ready to make the deviled eggs. Once ready, carefully split eggs vertically, cutting around the yolks. Remove yolks and place them in a mixing bowl. Place egg white "cups" on a pretty platter or deviled egg serving plate.
Add the pitted, peeled avocados, lemon juice, mayonnaise and Dijon mustard to the mixing bowl that the yolks are in. Using an electric mixer, whip everything until smooth. Salt and pepper to taste. Spoon mixture into a cake decorating bag fitted with a large star tip. Pipe filling into egg white "cups."
Crumble bacon over the tops of the eggs. Sprinkle eggs with a generous amount of smoked paprika, and finish off by sprinkling the chopped parsley over all.
Chill the deviled eggs for up to two hours before serving. Serve cold with hot sauce on the side for dipping.
Enjoy!
~Melissa
You may enjoy these related posts: