Print Friendly Version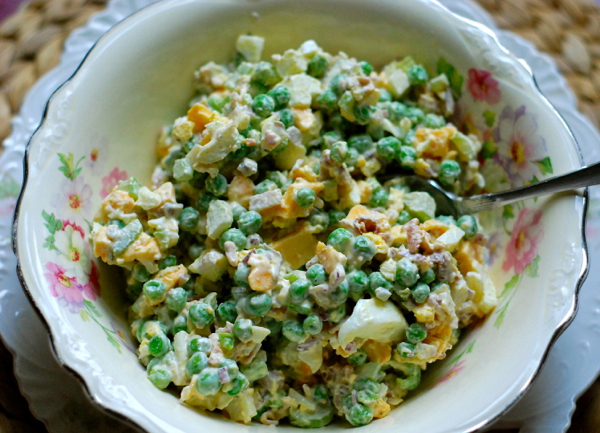 There use to be a restaurant in Wickenburg, AZ called The Frontier Inn owned by a man named Vic Comer. He was famous for his smoked meats… and this amazing salad. We just love it with grilled steak or chicken!
yield: 8 servings
6 slices thick cut bacon
1 large clove garlic, minced
2 cups frozen peas, thawed and drained
1 small onion, chopped fine
1/2 cup celery, chopped fine
1/2 cup sharp cheddar cheese, cut into small pieces
3 large hard boiled eggs, chopped fine
1 teaspoon seasoned salt
1/2 cup real mayonnaise
freshly ground black pepper
Fry bacon until crispy, but not too crisp. Drain and cut into small pieces. Chill. Rub a wooden salad bowl lightly with garlic and place the rest of the ingredients into the salad bowl along with the garlic. Mix all ingredients very well. Cover and chill in refrigerator for at least one hour. Serve.
You may enjoy these related posts: