Print Friendly Version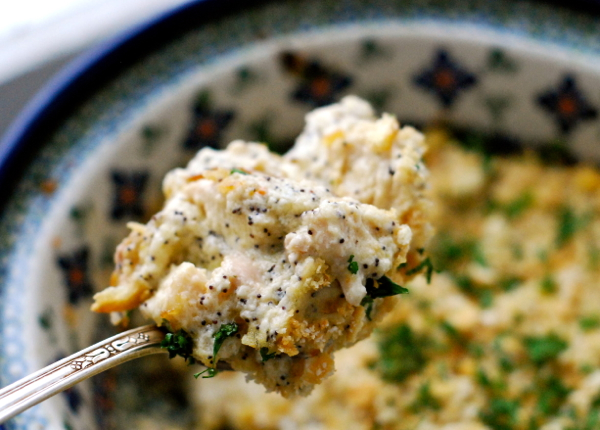 Mmmmmm! Oh, yeah! This is my idea of comfort food. This chicken is super creamy and rich. It's perfect with a cold, crisp tossed salad and a little baguette.
So many of the creamy chicken casseroles out there call for condensed, canned cream soups. Honestly, they're so bad for you! Most of them contain tons of salt and MSG, not to mention additives, preservatives and chemicals. This is not diet food, but it was my goal to create a creamy chicken without any cream soup. Folks, we have a winner!
~ preheat oven to 350 degrees F. ~
serves 6 to 8 people
3 to 4 lb. boneless, skinless chicken breasts, cooked and cubed
1/2 cup grated Parmesan cheese
3/4 cup plain Greek yogurt
1/4 cup real mayonnaise
1/4 cup extra virgin olive oil
2 Tablespoons half and half OR heavy cream
2 heaping Tablespoons poppyseeds
1 sleeve round, buttery crackers, crumbled until fine, divided (I used Late July Organic)
1 Tablespoon lemon zest
juice of 1 large, juicy lemon
3 Tablespoons fresh, chopped parsley
Combine all ingredients in a large mixing bowl, reserving 1/3 cup cracker crumbs and chopped parsley for top. Spread in a glass casserole pan or 11×7 baking pan. Sprinkle with reserved cracker crumbs and parsley. Bake, uncovered, for 30 minutes or until golden brown on top and thoroughly heated through.
Enjoy!
~Melissa
You may enjoy these related posts: