Print Friendly Version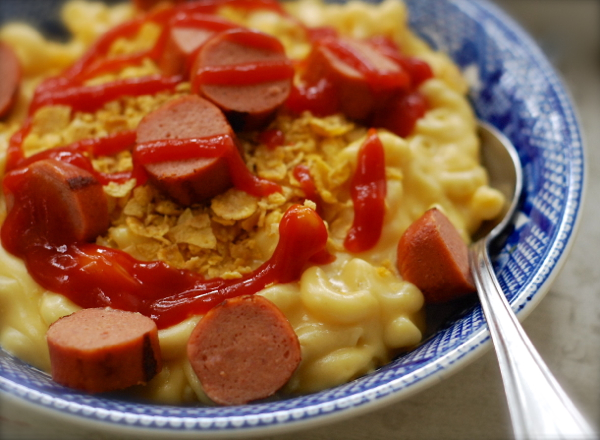 If you're from the Midwest, and Minnesota in particular, you're probably familiar with the way we eat our mac & cheese. It's kind of ridiculous, but I must admit, I love it so.
~ serves 8 ~
for the macaroni:
1 lb elbow macaroni noodles
Cook pasta in salted boiling water until just shy of the "al dente" stage, (approximately 5 minutes.) Drain very well.
for the toppings:
8 hot dogs
4 cups cornflakes OR plain, salted potato chips (crunched up a bit)
ketchup
Cook hot dogs on a grill, in a skillet or in microwave, just until heated through. Wrap in foil to keep hot while you make your mac sauce.
for the mac sauce:
6 cups whole milk
1 cup unsalted butter
1 cup all purpose flour
2 teaspoons sea salt
6 slightly heaping cups grated sharp cheddar cheese
Place milk in a saucepan over medium heat until it just starts to bubble. Don't boil. (Approximately 4 minutes.) Remove from heat.
In a separate saucepan, heat butter over medium heat. When butter has just melted, add the flour. Using a wire whisk, whisk constantly until mixture turns a light amber color and smells nutty and fragrant. Slowly pour the warm milk into the flour mixture (in 1 cup increments.) Whisk well between each addition. Once you've added all the milk, set the saucepan back over medium-high heat, continuing to whisk constantly until the sauce has become thick (approximately 3 minutes.) Remove from heat. Using a wooden spoon, stir in the salt and cheese until completely combined and smooth. Add the cooked macaroni to the sauce, stirring gently and well to thoroughly incorporate.
Scoop into bowls. Salt to taste. Top each serving with some of the cornflakes/potato chips, a sliced hot dog, and a drizzle of ketchup.
Enjoy!
~Melissa
You may enjoy these related posts: