Print Friendly Version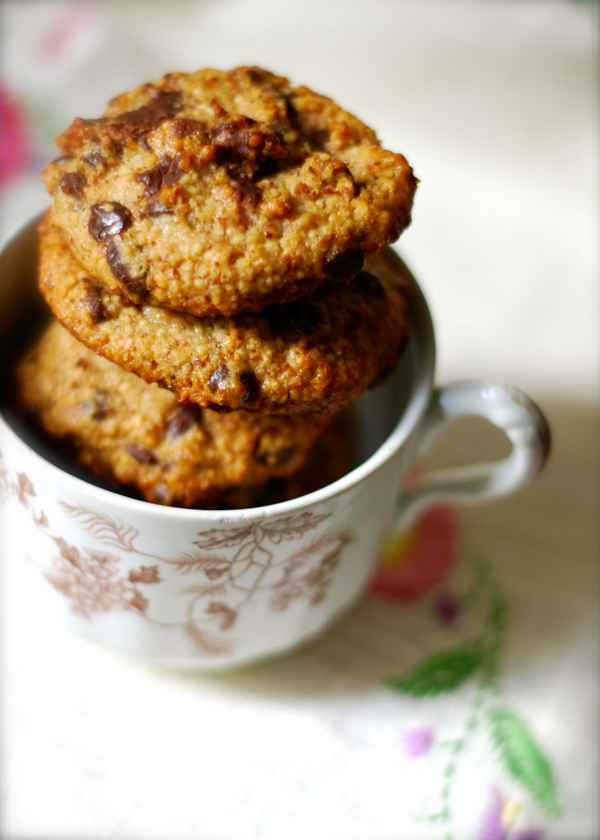 My daughter, Grace, has been getting creative in the kitchen and cooking up all sorts of healthy, Paleo treats. These are some of the best, chewiest, soft chocolate chip cookies I've ever had and the almond flour gives these cookies a wonderful texture and flavor. They're too good not to share, so here's the recipe!
~ preheat oven to 350 degrees F. ~
yield: 12 to 14 cookies
1 and 1/2 cups almond flour/meal
1/4 teaspoon baking soda
1/4 teaspoon sea salt
2 Tablespoons coconut oil, melted
1/2 teaspoon vanilla extract, melted
1/4 cup raw honey, melted
1 large egg, lightly beaten
1/2 cup Paleo chocolate chips (Grace used "Enjoy Life")
Mix the flour, baking soda and salt in a mixing bowl. Mix the coconut oil, vanilla, honey and egg in a separate bowl. Pour the wet ingredients into the dry ingredients. Mix well. Fold in chocolate chips. Place cookie dough in refrigerator for 30 minutes to chill. Spoon tablespoonfuls of the cookie dough out and place them, 2 inches apart, on a parchment-lined cookie sheet. Bake 12 to 14 minutes or until golden brown. Cool for a couple minutes on the cookie sheets before transferring to wire racks to cool completely.
Enjoy!
~Melissa and Grace
You may enjoy these related posts: