Print Friendly Version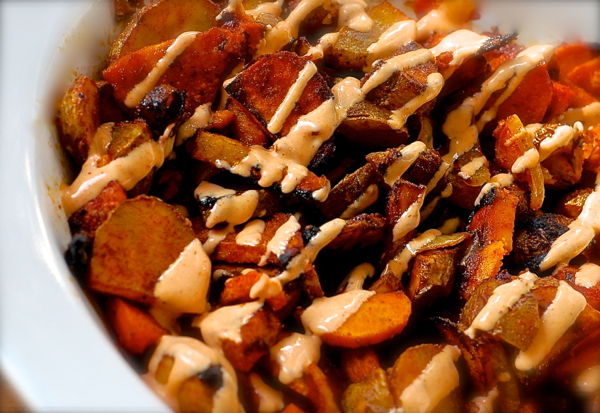 Oven roasting vegetables really brings out the natural, earthy flavors of each individual vegetable and nothing benefits from oven roasting more than the humble potato. Here I've added sweet potatoes to the russets, sprinkled in some cozy spices and topped everything off with a spicy, zesty chipotle crema. You could serve this as a side dish if it ever makes it to the table. We've been known to hover around the pan as soon as this emerges from the oven and just eat this stuff until it's gone. So, I guess you could call this an appetizer too.
Some other favorite oven roasted veggie and fruit dishes for you to try: Pick-A-Berry BBQ Sauce, Oven Roasted Root Veggies & Chevre, Oven Roasted Strawberry-Vanilla Vinaigrette, Feel Good Lentil Stew with Oven Roasted Veggies & Curried Cream, Oven Roasted Cranberry Compote, Rustic Butternut Rosemary Tart with Oven Roasted Garlic, Honey Candied Oven Roasted Baby Carrots, Oven Roasted Veggie Rice, Oven Roasted Garlic & Sesame Salad Dressing, Oven Roasted Carrots & Ginger, Oven Roasted Cherry Tomatoes, Oven Roasted Beet Salad with Chevre & Sherry Vinaigrette, Roasted Tomato Pesto Salad Dressing, Whitefish Roulade with Pesto & Oven Roasted Lemon Vinaigrette,  and Savory Roasted Ratatouille Tart.
for the potatoes:
~ serves 4 as a side dish ~
preheat oven to 425 degrees F.
2 large russet potatoes, washed and unpeeled
2 large sweet potatoes, washed and peeled
1 large onion, peeled and cut into big chunks (optional)
olive oil to coat vegetables
1 teaspoon cinnamon
1/4 teaspoon ginger
1/4 teaspoon nutmeg
1/4 teaspoon cayenne pepper
pinch of cloves
coarse sea salt and freshly ground pepper to taste
Cut russets and sweet potatoes into bite size pieces and place in a large bowl along with the onion chunks. Drizzle olive oil over the veggies and toss to coat. Sprinkle the spices over everything, one at a time and toss to evenly distribute.
Transfer to a large baking sheet with a lipped edge. Spread veggies evenly, in one layer, over the baking sheet. Place in oven and bake until toasted, golden brown around the edges, tender and fragrant (approximately 30 to 45 minutes.)
Transfer hot, roasted potatoes and onions back to the big bowl and drizzle generously with the sweet chipotle crema.
for the Sweet Chipotle Crema :
3/4 cup plain, greek yogurt or sour cream
1/4 cup real mayonnaise (not miracle whip)
1/3 cup brown sugar or raw honey, melted
1/4 cup Sriracha hot sauce
1 teaspoon chipotle powder
1/4 teaspoon smoked paprika
Whisk all crema ingredients together in a large mixing bowl until completely combined and smooth. Transfer crema to a plastic squeeze bottle. Cover and refrigerate until ready to use.
Enjoy!
~Melissa
You may enjoy these related posts: