Print Friendly Version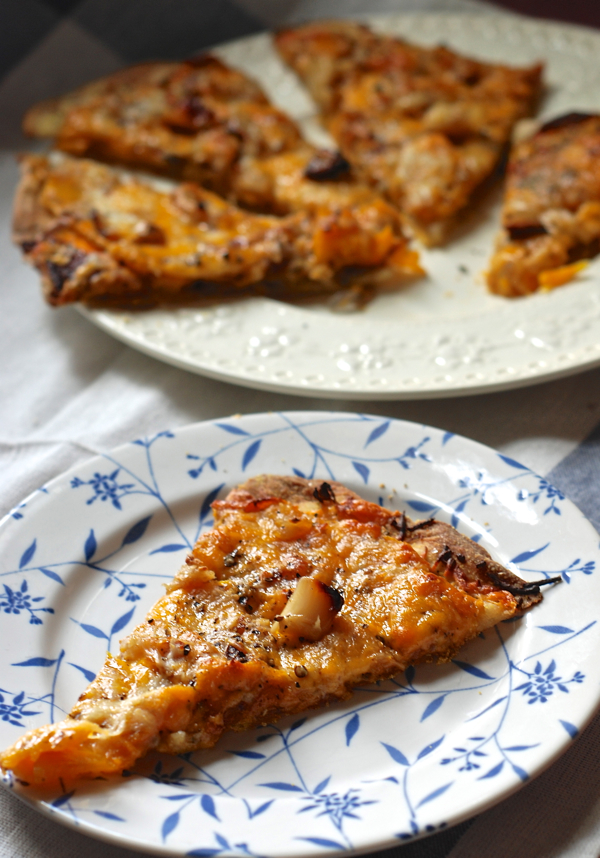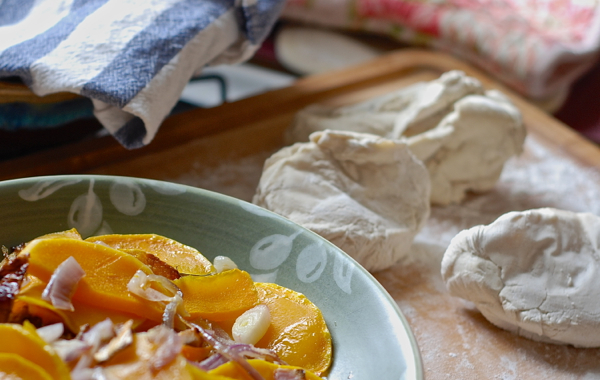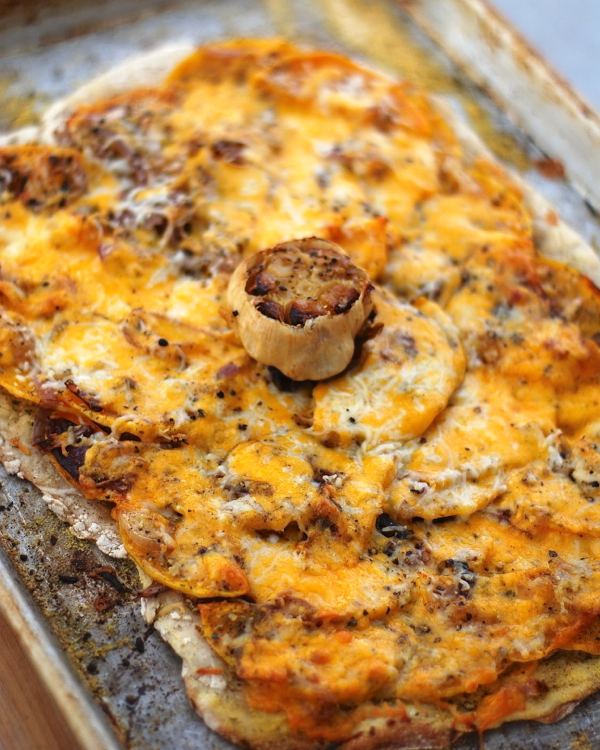 There's a little whole foods grocery store/co-op in Minneapolis called The Wedge. They have an awesome bakery, juice bar and lunch counter in the back of the store, and when we're in the area we like to go there to enjoy a quick lunch before we do our shopping. They serve an amazing butternut squash and rosemary pizza, and when it's available, it's always my first choice.
Today I was craving that pizza something fierce, and this rustic tart is inspired by that pizza. The Wedge serves theirs on a whole wheat crust, but I had some regular pizza crust in the freezer that I wanted to use up, so that's what I made mine with this time. Feel free to use your favorite crust recipe, pre-made crust, flat bread, focaccia, split bialys or bagels, pita bread or even French bread for this lunch treat. If you're using frozen pizza dough, make sure you allow it to sit out and thaw completely, and come to room temperature, before rolling it out.
1/2 of a butternut squash, peeled and sliced into thin pieces
1 medium size onion, peeled and sliced thin
1/4 cup olive oil, divided
3 (1 cup balls) pizza dough
cornmeal
1 Tablespoon dry pizza seasoning
1 teaspoon dry rosemary powder
1/2 teaspoon dry allspice powder
1/4 teaspoon nutmeg
coarse sea salt and freshly ground black pepper
1 cup shredded sharp cheddar cheese
1/2 cup to 1 cup shredded mozzarella cheese
1 or 2 heads oven roasted garlic
Toss sliced squash and onion with 2 Tablespoons of the olive oil. Place on a large baking sheet, in one layer, and oven roast in a 400 degree F. oven for 25 minutes, or until tender and just starting to crisp on the edges.  Remove veggies from baking dish and set aside. Using the same baking sheet (without wiping off the oil) sprinkle a couple Tablespoons cornmeal on the baking sheet. Roll out pizza crust so it's thin and even (but not so thin that it tears.) Place it on the baking sheet.
Increase oven temp. to 425 degrees F. Place the crust in the oven to bake for 3 minutes. Remove from oven and sprinkle the rosemary evenly over the crust. Spread the squash and onion mixture over that. Sprinkle with the allspice and nutmeg. Sprinkle the cheeses evenly over the squash layer. Sprinkle salt and pepper over the whole tart.
Bake for 15-20 minutes, until crust is crispy, tart is heated through, and cheese is melty. Remove from oven. Drizzle with remaining olive oil. Squeeze the oven roasted garlic cloves all over the pizza. Top with a little freshly grated Parmesan cheese, if you wish.
Enjoy!
~Melissa
You may enjoy these related posts: