Print Friendly Version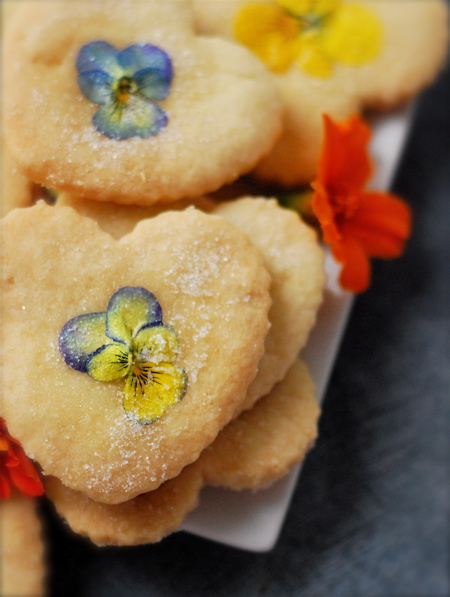 ~ buckingham palace shortbread  with flower blossoms ~
fit for a queen…
2 cups unsalted butter at room temperature
2/3 cup granulated sugar
4 cups pastry flour
1 and 1/3 cups cornstarch
edible flowers
egg whites
superfine sugar
In a large bowl, cream the butter and sugar until fluffy. In a medium bowl, stir the flour and cornstarch together. Gently stir the flour mixture into the butter mixture until it forms a soft dough. Cover with plastic wrap and chill for 15 minutes.
Preheat oven to 325 degrees F. Dust the dough lightly with flour. Roll out to a 3/4-inch thick. Cut into desired shapes with a cookie cutter. Transfer to a parchment-lined cookie sheet. Bake for 10-15 minutes or until slightly golden. Remove from oven and paint on a little eggwhite (using a small pastry brush.) Gently press a small, edible flower blossom into the center of each cookie. Paint a little more eggwhite over the blossoms to flatten and smooth them out. Sprinkle a little superfine sugar over the cookies and bake an additional 2-3 minutes (or until cookies are just slightly golden and firm.) Enjoy with your favorite English brew!
Makes 4 dozen cookies.
Happy TeaTime!
~Melissa
You may enjoy these related posts: