Print Friendly Version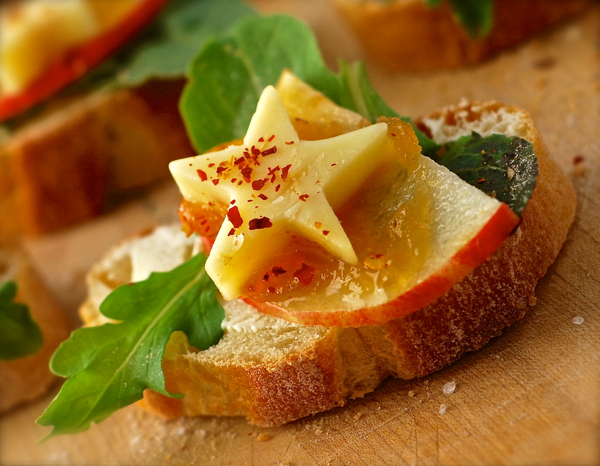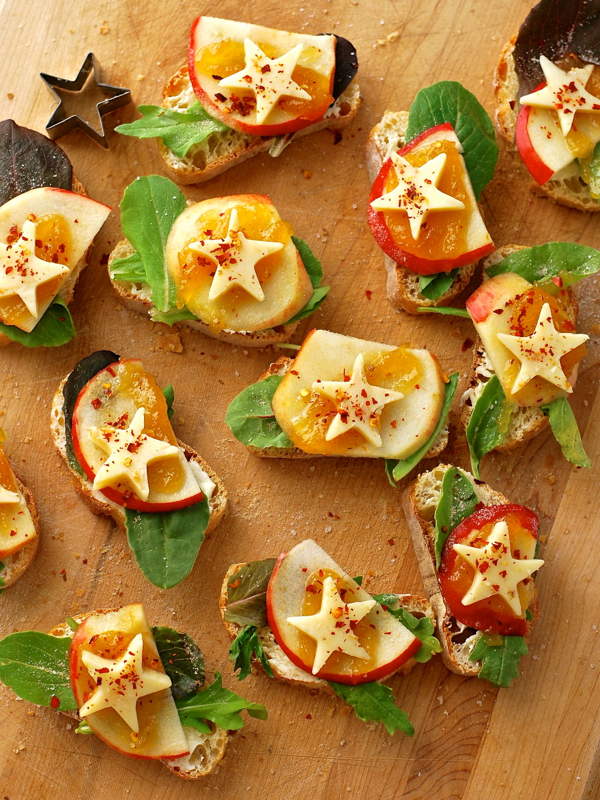 Yay! Friday's here again. My favorite day of the week because I love the anticipation of the weekend, and we always do something a little special for Friday night appetizers on the deck. In the autumn it's especially fun when we head out back, bundled in sweaters, vino in hand, and sit next to a campfire that Jeff has built in our fire pit.
Here are the perfect little nibbles for such an occasion…
1 long, fresh baguette
real butter
arugula and/or baby spring greens
fresh, tart apple slices (we love Haralsons)
cinnamon and sugar
ginger jam (The Ginger People make my FAVE)
Apple Jack cheese or regular Monterey Jack cheese (cut into star shapes)
red pepper flakes
coarse sea salt (optional)
Cut baguette into 1-inch thick slices. Toast them if desired. Spread each slice with a little butter. Top with some greens (not too many, a few leaves will do,) followed by a thin slice of apple, a sprinkle of cinnamon and sugar, a about 2 teaspoons of ginger jam, a cheese star, and finally a sprinkle of the pepper flakes. Salt a little, if you prefer.
Enjoy!
~Melissa
You may enjoy these related posts: