Print Friendly Version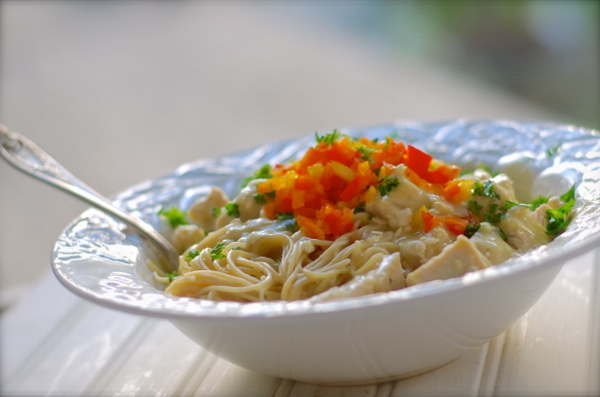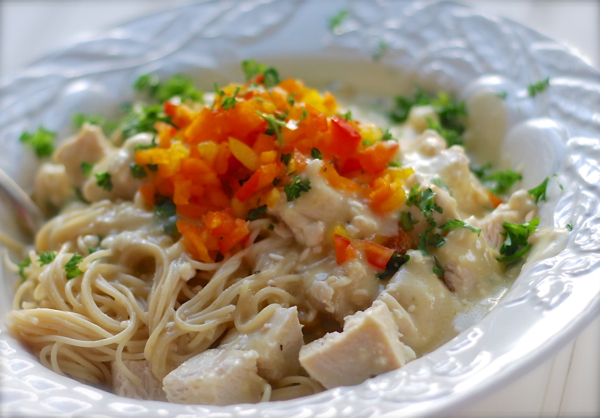 When trying to come up with an appropriate name for this gorgeous, creamy, chicken pasta all I could think of was "creamy and dreamy." The "angel" part comes from serving it over Angel Hair pasta… So, there you have it! This is an awesome, easy dinner dish and definitely fancy enough to serve to company! Add some chopped, tri-color, sweet bell pepper and fresh parsley for and easy, colorful garnish. Pair this with a glass of your favorite white wine.
4 to 6 large, boneless skinless chicken breasts
8 oz. cream cheese, softened to room temperature
2 cans cream of chicken (or cream of mushroom soup)
1/2 cup dry white wine
1/2 cup Italian salad dressing (regular or creamy)
1/2 cup chopped sweet bell pepper (I used a combination of red, orange and yellow)
1/2 cup chopped fresh parsley
Place chicken breasts in bottom of a 6 to 7 quart Crock Pot. Combine the remaining ingredients in a large mixing bowl using a wire whisk. Mix until totally smooth. Pour over the chicken in the Crock Pot. Cook on the LOW setting for 4 to 5 hours, or just until chicken is completely cooked through and juices run clear when chicken is sliced.
Chop chicken into big chunks or shred it and serve over angel hair pasta. Serve with some of the sauce from the Crock Pot, and garnish with the chopped peppers and parsley. Salt and pepper to taste.
Enjoy!
~Melissa
You may enjoy these related posts: