Print Friendly Version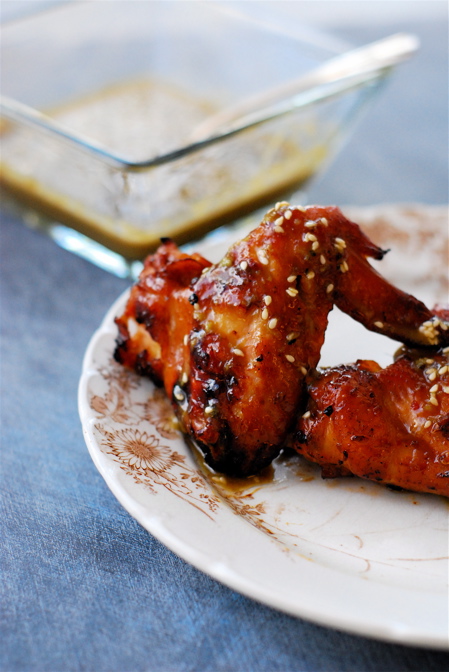 ~ saigon chicken wings ~
Have you been doing a lot of grilling this spring? We certainly have…and this past winter too, come to think of it. The weather has been lovely, and mild.
We've been roasting and grilling a lot of THESE, which we love so much since our dear friend Shelly told us about them, but I was craving the appetizer-ish type chicken wings this past weekend.
These take 24 hours to marinate, so plan accordingly. The long marinading time and a couple of little tricks will make these some of the best little wings you've ever had. They're sweet, tangy, and spicy with the mellow flavor of toasted sesame seeds.
4 lb. fresh chicken wings, extra inside skin removed OR drummettes
juice of two large lemons
1 bottle teriyaki sauce
6 large cloves of garlic, minced
2 Tablespoons Sriracha "chile garlic" sauce
2 Tablespoons dark, toasted sesame oil
sea salt and freshly ground pepper
Remove the inside skin from the wings with a kitchen shears. Blot the pieces dry. Combine the lemon juice, teriyaki, chile-garlic sauce, sesame oil, salt and pepper. Divide the wings and marinade between two heavy duty ziploc bags, removing as much air from the bags as possible before sealing. Moosh the bags, and turn them several times to ensure all wings are coated. Place the bags in a large bowl and refrigerate. Over the next 24 hours try to moosh the bags and rotate them at least 6 times.
Light a charcoal grill and soak some woodchips in water while waiting for the grill to get ready for the wings.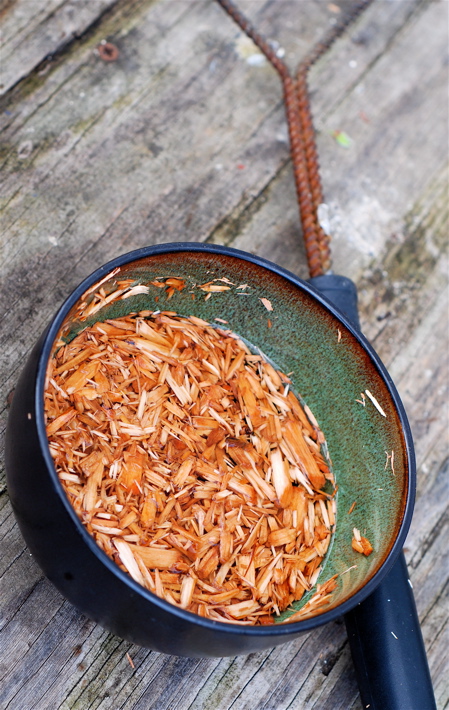 You want the grill at a temperature that will sufficiently cook the wings, turning them golden brown,  in 20 minutes without burning them to a crisp. This is a bit of an art, and takes a little practice. You can use a gas grill, but it's not really the same.  If the skin starts to blacken, remove the wings and wait for the coals to subside a bit.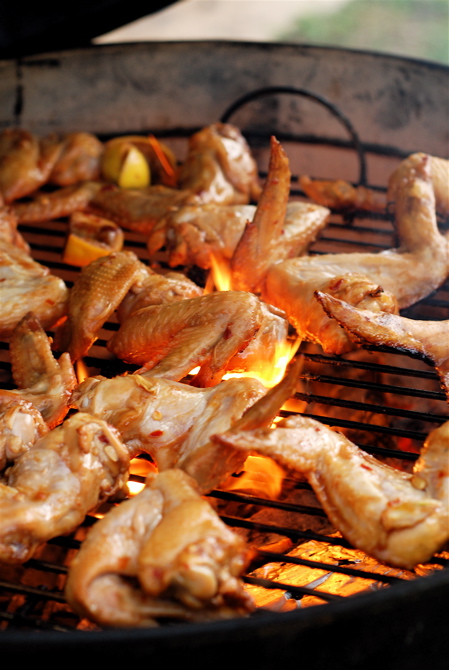 Place wings on grill, cover. After 5 minutes, flip the wings. (Using grill tongs, not a fork.) After another 5 minutes, flip them again (always covering the grill during cooking time.) Then lift the grid and throw in the soaked wood chips. Quickly replace the cover. Cook with the top grill vents closed for an additional 5 minutes. Remove the cover, flip wings and then cook for the final 5 minutes. Your wings should be crispy, smoky and moist. Serve hot, with the following sauce.
~ sesame wasabi dipping sauce ~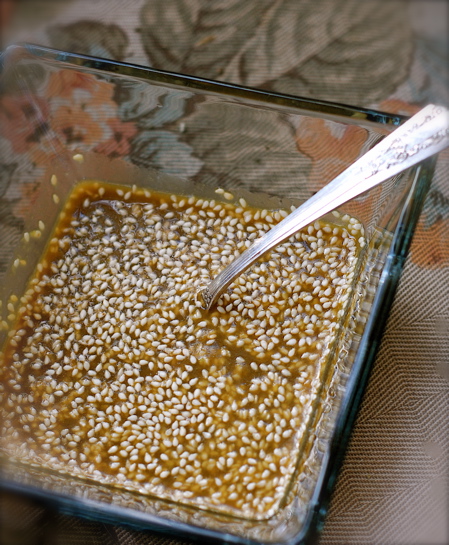 2 Tablespoons creamy wasabi horseradish sauce, (we like Inglehoffer)
a few dashes of soy sauce
2 Tablespoons dark sesame oil
juice of one lemon
2 Tablespoons honey
toasted sesame seeds
Combine all in a small bowl, using a wire whisk. Also lovely on wontons and eggrolls!
Enjoy!
~Melissa
You may enjoy these related posts: