Print Friendly Version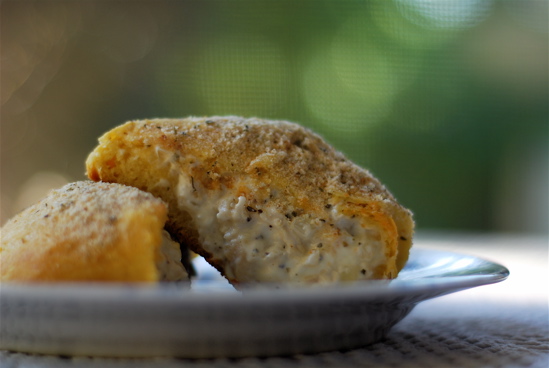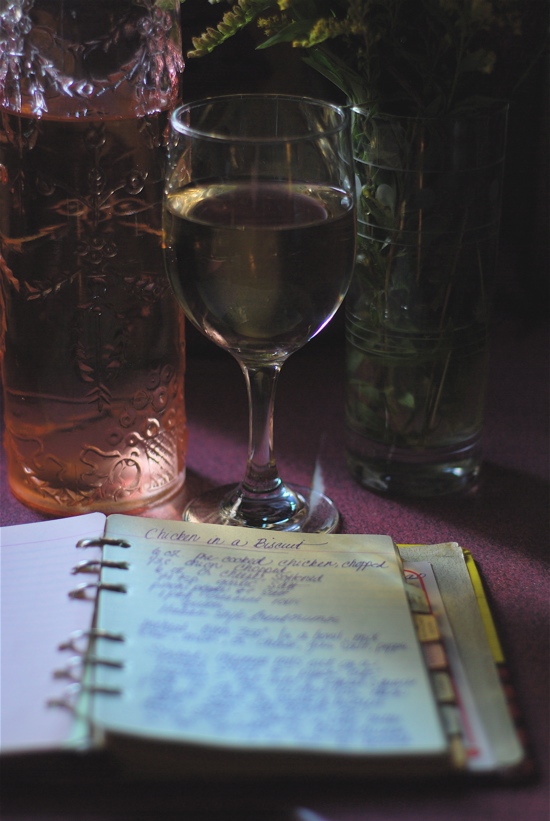 After a long day of writing and editing, I always head out to the kitchen to relax. Making dinner is one of my favorite parts of the day. I light a candle, open the porch door to let in fresh air (weather permitting), watch a movie on the little DVD player or listen to music (relaxing or festive…depending on my mood), and sip a glass of wine while I plan the menu, marinate, mix and bake. If you'd like, you can read more about this little ritual in my blog post Creating Ambience While You Cook…It may inspire you to look at the act of preparing meals in a whole new way.
So, last night I meandered out to the kitchen to make a big salad full of farmer's market produce: ruby red tomatoes dripping with juice, spring greens, crunchy homemade croutons, spring onions, fragrant cucumber, and homemade raspberry vinaigrette…and to go with our salads…these yummy biscuits filled with a creamy chicken filling. Delicious warm or cold, these can be made large and served as a main course, or smaller and served as appetizers.
~ chicken in a biscuit ~
preheat oven to 350 degrees F
serves 4
6 oz. pre-cooked chicken, chopped into small chunks
1/3 cup onion, chopped very fine
6 oz. cream cheese, room temperature
3 teaspoons dried Italian seasoning
1 teaspoon garlic powder
1/2 teaspoon black pepper
pinch of salt
1 large tube, refrigerated crescent rolls
Italian style bread crumbs
Spread crescent rolls out on a large baking sheet. Pinch "cuts" together, creating four, large rectangles of dough. Press dough to flatten a bit. Combine all of the other ingredients, except the breadcrumbs, in a medium bowl until evenly combined. Place 1/4 of the mixture in the center of each dough rectangle. Fold long ends over filling, and seal the edges to make sure the filling is completely enclosed in the dough. Turn bundles, seam side down, on baking sheet. Sprinkle each with a little of the bread crumbs. Bake 18-20 minutes or until golden brown.
Enjoy!
~Melissa
You may enjoy these related posts: