Print Friendly Version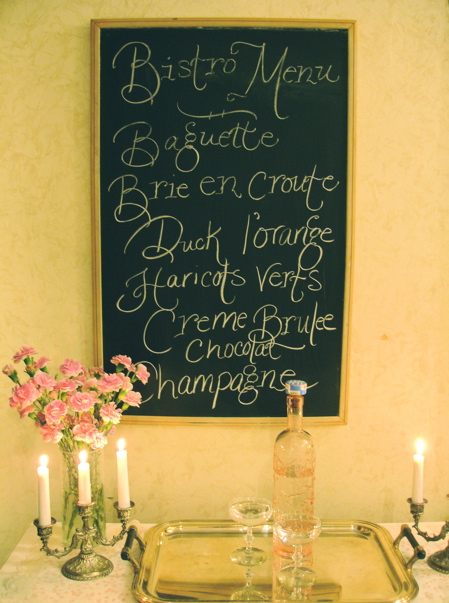 photograph by Melissa Placzek
Cooking the evening meal is one of my favorite things to do. I light candles, play a soothing CD, and sip a glass of wine as I cook. I like to have a fragrant bouquet of flowers of a bowl of tangy lemons on the counter to delight my senses when I pass by. In warmer months, I open our back porch door so I can hear the birds singing and the wind chimes tinkling and smell the fresh air as I create my culinary masterpieces 🙂 I like to wear comfortable, flowing cotton clothes when I cook and I always go barefoot. Naked feet are a must. I also love writing the evening's menu on a big "bistro" board that I made out of a big blackboard and display in our dining room.
Using exotic ingredients is a simple pleasure that I indulge on a regular basis. The simple act of using cheese from Provence, wine from Italy, spices from India, chocolate from Switzerland, and unfiltered extra virgin olive oil from Spain elevates plain old cooking to a divine experience. I am also a big believer in using fresh ingredients every day. Herbs and vegetables from my kitchen garden or nearby Red Wing Farmer's Market, baguette from our village bakery, sausages, meats and seafoods from our local butcher, and freshly squeezed fruit and vegetable juices not only add amazing flavor, but are much better for you.
Try some or all of these ideas and turn cooking for your family into a wonderful ritual that you look forward to every day!
"There is no spectacle on earth more appealing than that of a beautiful woman in the act of cooking dinner for someone she loves. "
~Tom Wolfe
You may enjoy these related posts: