Print Friendly Version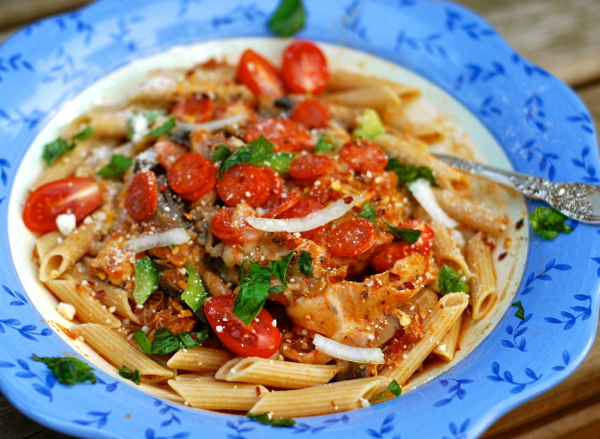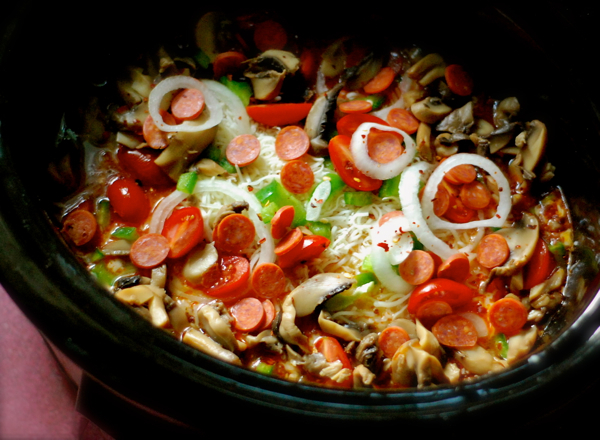 We just returned home from a wonderful week long vacation on Lake Superior's north shore. We do this every year, and it's the perfect way to say farewell to summer and to greet autumn.
I don't know about you, but I loooooove to use my slow cooker to create comfort food meals all year long. When we're up north we go out to eat several times, but a few times we make meals in the slow cooker. This way I still get to make new recipes for my blog while on vacation, we share intimate family meals in the comfort of our resort room, and we save a little money. Win, win, win!
Here's one of the latest dishes that emerged from the Crock Pot. It is so easy, and SO delicious, I can't wait to share it with you. You could serve this on warmed flatbread or toasted baguette if you want to eat it "pizza style," or you can serve it over your favorite pasta as shown above. Either way it's awesome!
serves 6 to 8 people
1 lb. pasta, cooked according to package directions (I used whole grain penne)
3.5 lb. boneless skinless chicken thighs or breasts (I like using thighs in the slow cooker)
1 (25 oz.) jar pizza sauce, marinara or spaghetti sauce
2 teaspoons dry Italian seasoning
1 teaspoon garlic powder
1 teaspoon onion powder
Place chicken pieces in bottom of slow cooker. Top with pizza sauce and seasonings. Cook on "High" setting approximately 3 to 4 hours or "Low" setting approximately 6 hours. Be careful not to overcook chicken, especially chicken breasts which have hardly any fat in them and tend to dry out in the slow cooker when overcooked.
Once chicken is done, shred the meat in the sauce. Turn slow cooker on the high setting if it's not already.
Top with any or all of the following:
8 oz. shredded cheese (I used a blend of 6 Italian cheeses, but Mozzarella will work just fine)
sliced mushrooms
thinly sliced onion
chopped bell pepper
Parmesan cheese
mini pepperonis
cooked, crumbled Italian sausage
fresh grape tomatoes, halved
red pepper flakes
Cover and cook approximately 10 minutes, or just until cheese is melted.
Place 1/2 cup to 1 cup prepared pasta in each person's bowl. Top with some of the Crock Pot Pizza Chicken mixture, and garnish with fresh chopped basil, if desired.
Enjoy!
~Melissa
You may enjoy these related posts: