Print Friendly Version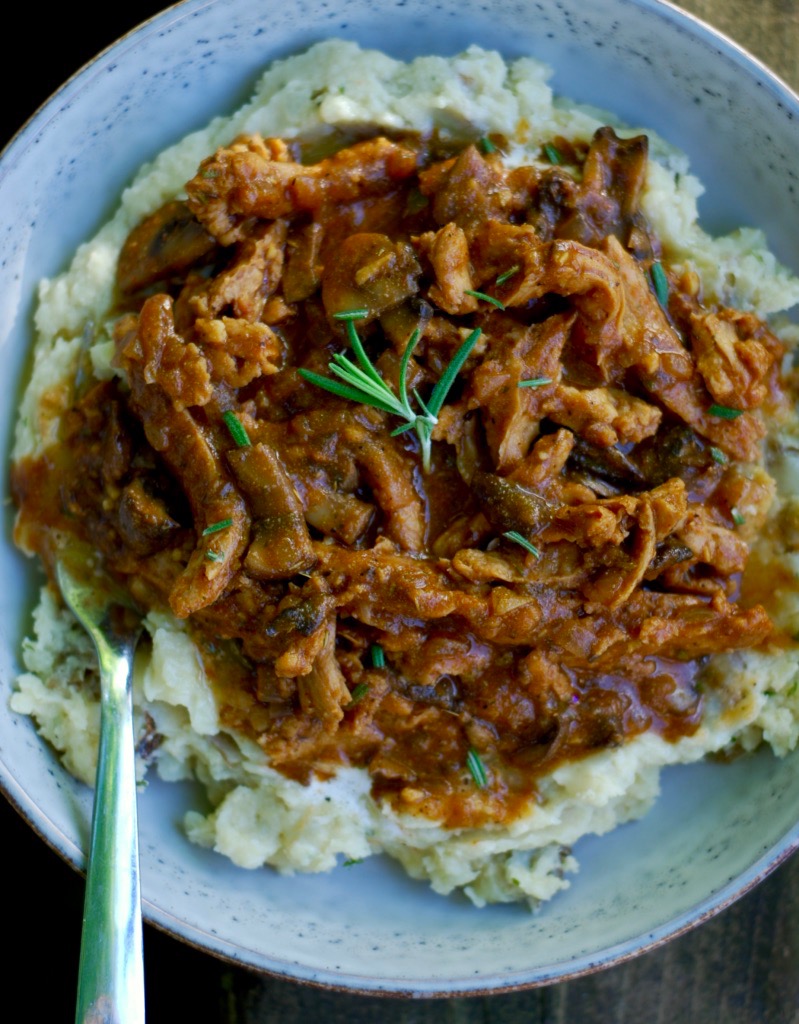 We're coming up on "comfort food" season, and nothing says comfort food like savory Salisbury steak and buttery mashed potatoes with rich, flavorful mushroom gravy! Am I right?
I know this doesn't exactly look like Salisbury steak. You may think the cheapo "boil in a bag" type with the generic brown gravy when you think Salisbury steak. Remember that stuff? Boiling water in a saucepan and dropping the frozen food brick in? Ah, the height of gourmet cooking. I had a freezer full when I was in college and mostly served it over buttered toast.
So, yeah, this isn't that. In fact, everything you see above is a whole food. Nothing weird or processed. No animal products. Cruelty free. Super healthy, yet full of flavor. I love healthy food that doesn't taste like health food, if that makes sense.
Give it a try. It's pretty darn easy.
You may wonder what soy curls are? They're these amazing things made from 100% soy beans. That's it. But they have the texture of lean chicken or beef, so they are a great meat replacer in things like: fajitas, stir fries, pulled "pork" sandwiches, tacos, pizzas… you name it.
You may wonder where you can get soy curls? I order them from Amazon by the 6 pack. They cost roughly $5 a bag and one bag makes 4 very generous servings. Not too shabby.
Okay, let's make some vegan Salisbury steak that I think you are going to love love love!
1 Tablespoon olive oil or vegan butter for sauteing (optional)
8 to 10 oz. baby bella mushrooms
1 cup chopped onion
1 Tablespoon finely chopped or minced fresh garlic
2 Tablespoons all purpose flour
3 Tablespoons tomato paste
1 cup vegetable broth
1 and 1/2 cups water
3 Tablespoons nutritional yeast
2 teaspoons Kitchen Bouquet browning sauce
2 cups dry soy curls
2 teaspoons garlic powder
2 teaspoons onion powder
2 teaspoon dried thyme
1/2 teaspoon dried mustard powder
1 teaspoon fresh rosemary, finely chopped + more sprigs for garnish
1/4 teaspoon dried sage
1 Tablespoon Mrs. Dash original table blend
freshly ground black pepper
mashed potatoes (for serving)
fresh or dried parsley for garnish
for the marinade:
1 Tablespoon "Better Than Bouillon" vegetable stock paste
1 Tablespoon smoked paprika
1 teaspoon steak seasoning (make sure you use one that's vegan)
2 teaspoons garlic powder
2 teaspoons onion powder
1 Tablespoon Mrs. Dash original table blend
2 to 3 Tablespoons water to create a thick marinade
First you're going to want to rehydrate the soy curls by placing them in a bowl and covering them with water for 10 minutes. Once the 10 minutes are up, drain them well and place them in a Ziploc bag. Add marinade (see below.) Place in fridge.
Mix marinade ingredients well to form a loose "paste." Pour into Ziploc with prepared soy curls. Gently work the paste into the soy curls so they are all completely coated. Place in refrigerator until you are ready to cook dinner. This can be done 24 hours in advance.
Now you want to make the gravy:
Saute the mushrooms and onion in the butter/olive oil (if using), and the soy sauce. Cook until tender (approximately 5 minutes.)
Add the minced garlic. Cook an additional 30 seconds. Add tomato paste and sprinkle flour, garlic powder, onion powder, thyme, mustard powder, rosemary, sage, Mrs. Dash, and pepper over the veggies and saute for a minute, stirring constantly.
Add veggie broth, water, nutritional yeast, and Kitchen Bouquet. Stir well to combine. Increase heat to a boil, stirring constantly and allowing sauce to thicken. Once sauce is thick, lower to simmer and add the rehydrated/marinated soy curls. Simmer for 5 minutes to allow all the flavors to marry. Adjust seasoning to your liking. Serve over buttery mashed potatoes and garnish with a little parsley and fresh rosemary sprigs.
Enjoy!
~Melissa
You may enjoy these related posts: