Print Friendly Version
My friend Will makes a fantastic vegetarian lasagna that he generously agreed to share here on ChinDeep. I love all the fresh veggie flavors in this lasagna, and there really is no need to add meat to it. Delicious!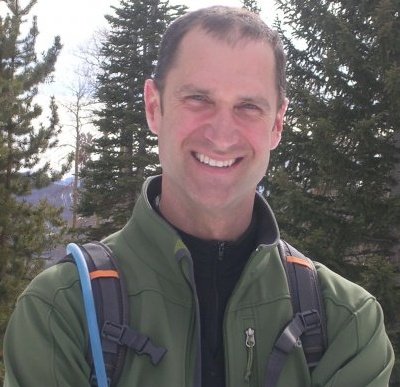 Will Raatz
~Will's World Famous Vegetarian Lasagna~
This is a work in progress as I refine amounts and ingredients and whatnot, but this is what went into the most recent production:
Whole wheat lasagna noodles (4-5 per layer, 3-4 layers, 12-20 noodles total)
Tomato sauce (2 – 15 ounce cans)
Tomato paste (3 – 12 ounce cans)
Mozzarella cheese (1.5 pound coarsely grated)
Ricotta cheese (1/3 pound)
Romano cheese (1/3 pound, finely grated)
Parmesan cheese (1/3 pound, finely grated)
Garlic (9 cloves, finely chopped)
Sun-dried tomatoes (3 ounces, chopped)
Spinach (3 ounces, remove stems)
Artichokes (12 ounce can), drained well
White onion (small)
Green bell pepper
Yellow bell pepper
Orange bell pepper
Red bell pepper
Soak noodles in water for at least 30 minutes (no need to boil, just soak)
Chop veggies, sun-dried tomatoes, artichokes and garlic
Grate cheese (if needed)
Oil pan with olive oil (I have a hand pump mister that works great for this)
Layer in a ceramic lasagna pan as follows: tomato sauce, veggies, noodles, tomato paste, veggies, sun-dried tomatoes, artichokes, garlic, cheese, spinach and repeat starting at noodles
Cover with aluminum foil, and poke a few holes in it with a fork
Bake at 350° for 2 hours (90 minutes if you are doing a smaller pan or one that isn't deep)
Save some mozzarella and spread on top after the 2 hours, and bake for another 15 minutes (I also sprinkle a little cayenne pepper on top for panache)
The preparation and clean up can take over 2 hours (plus over 2 hours cooking time), so make sure to give yourself enough time (or recruit some help!). It can be prepared in advance and refrigerated until ready to cook (up to a day?). Never put the noodles on the bottom of the pan…they will dry out and stick. I can barely get 4 layers in 3" deep lasagna pan…need to find a 4" deep lasagna pan one of these days. I fill it slightly over the top as it will cook down. I also usually add some crushed red pepper and cayenne pepper, and even cracked pepper and sea salt. There's a lot going on, so make sure not to overdo it with any one seasoning. Substitute, add or subtract ingredients as suits you. I have never made this with meat, but I'm sure you could throw in a layer of your choice if it were browned and drained prior. There are lots of shortcuts, like using spaghetti sauce instead of tomato sauce and tomato paste, or buying pre-shredded cheese.
Thanks for this fabulous, healthy recipe Will!
~Melissa
You may enjoy these related posts: