Print Friendly Version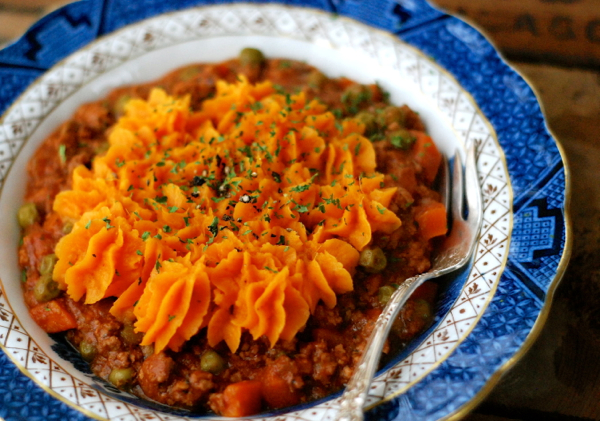 Today I went to my grandgirl's school for Grandparent's day. Maddie May's Kindergarten class sang a couple adorable songs to all of us grandparents in the elementary school gymnasium (one of them brought tears to my eyes!), and then we all went to the classroom to read books, play games and color. What a fun diversion in the middle of this snowy Tuesday. I just love Kindergarten classrooms! They're so cheerful. And I love how elementary schools smell like lunchroom food, books and the cleaner they use on the hallway floors. So nostalgic.
I've been cooking yummy comfort food in the Crock Pot again today and it's been simmering away and making the whole house smell like chicken and curry and spices while I've been away. I'll be sharing that recipe very soon so stay tuned!
I made this fabulous shepherd's pie yesterday and between last night's dinner and today's lunch it's almost gone. We completely demolished it. You can make this the classic way by simply substituting regular mashed potatoes whipped with sour cream in place of the whipped yams. Some classic recipes for shepherd's pie call for a little grated cheese sprinkled over the top too. My version is Paleo-friendly and it's fantastic. Here's how you make it…
2 Tablespoons olive oil
1 large onion, chopped
1 lb. extra lean ground beef
1 lb. lean ground turkey
2 Tablespoons Trader Joe's 21 Seasoning Salute or Original Mrs. Dash
1 Tablespoon dry Italian seasoning
2 teaspoons garlic powder
2 teaspoons paprika
2 teaspoons freshly ground black pepper
1 teaspoon onion powder
24 oz. tomato sauce
1/2 cup dry red wine
16 oz. frozen peas & carrots
2 Tablespoons Minute Tapioca
3 large yams, baked with skins on and cooled
2 Tablespoons grass fed butter
2 Tablespoons plain greek yogurt
salt to taste
Heat olive oil in a large skillet. Once hot, lower flame to medium-high. Saute the chopped onion in the oil until it turns a light golden brown and becomes tender. Transfer onion to your slow cooker. In the same skillet, brown the ground beef and ground turkey. It just needs to be lightly browned with mostly raw meat throughout. Transfer the lightly browned ground meats to the slow cooker.
Add: 21 Seasoning Salute/Mrs. Dash, Italian seasoning, garlic powder, paprika, pepper, onion powder, tomato sauce, wine, peas & carrots and tapioca. Mix everything together until well blended and all ingredients are evenly incorporated. Cover Crock Pot/slow cooker and turn it to the LOW setting to cook for 6 to 8 hours (or the HIGH setting to cook for 3 to 4 hours.)
While the shepherd's pie is cooking in the Crock Pot, bake your yams. You'll want to prick them a few times with a knife or fork before baking them in a 350 degree F. oven for approximately 1 hour (or until they're very tender when poked with a knife.) Remove yams from oven and place them on counter to cool. Once cool, peel them and place them in the bowl of a counter top mixer along with the butter and yogurt. Whip them until very smooth and no lumps remain. Transfer to a bowl, cover and refrigerate until it's time to eat.
When the shepherd's pie filling is done, turn your slow cooker to the WARM setting. Heat the yams in your microwave until completely warmed through. Ladle the shepherd's pie filling into individual serving bowls, and using a cake decorating tube fitted with a decorative tip, pipe the sweet potatoes onto the tops of the bowls. Salt to taste and serve.
Enjoy!
~Melissa
You may enjoy these related posts: