Print Friendly Version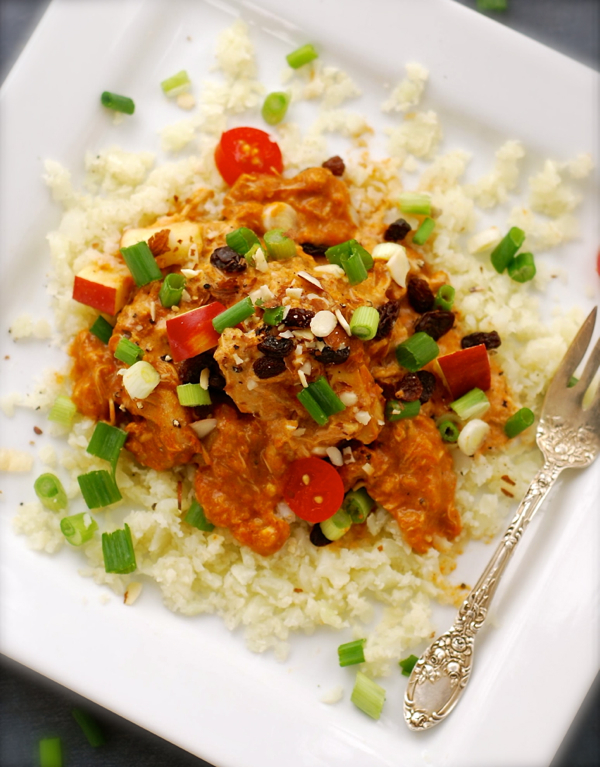 Hi there, Friends! How was your Thanksgiving? We had it pretty easy. We decided to make reservations at the historic St. James Hotel here in Red Wing. They always throw an awesome party "on the Summit" and prepare a spectacular spread. My mom, brothers and sister joined us for the occasion and I can't remember a more fun and relaxing holiday.
We're settling back into preparing easy, healthy comfort food and this recipe really fits the bill. It's flavorful, satisfying and if you make it with my cauliflower "rice" instead of the traditional white or brown rice, it's Paleo.
6 oz. can tomato paste
1/2 cup canned, full fat coconut milk
3 cloves garlic, minced
3 heaping Tablespoons sweet curry powder
1 Tablespoon grated, fresh ginger
1 teaspoon cumin
1/4 teaspoon red pepper flakes
1/2 cup water
1 large onion, coarse chopped
2 Tablespoons grass fed butter
2 to 3 lb. boneless, skinless chicken thighs
1/2 cup plain, whole-milk greek yogurt
3 cups steamed cauliflower OR cooked white rice
5 scallions, thinly sliced
2 apples, unpeeled, cored and chopped
1 cup raisins or sultanas
1/2 cup slivered almonds
salt and pepper to taste
In a 6 to 7 quart slow cooker, combine: tomato paste, coconut milk, garlic, curry powder, ginger, cumin, red pepper and water.
Saute onion in butter until tender, and slightly golden. Add this to the Crock Pot. Stir everything together very well.
Place the chicken thighs on top of the sauce in the Crock Pot. Spoon some of the sauce over the thighs, so they're immersed in the sauce. Cover slow cooker and cook on LOW for 7 to 8 hours (or on HIGH for 3 to 4 hours.) Cook until chicken is tender and completely cooked through.
20 minutes before serving, start steaming your cauliflower in a steamer basket over an inch or two of boiling water. Cover until just tender. Process in a food processor by pulsing a few times until cauliflower reaches "rice" consistency.
Just prior to serving, remove chicken from slow cooker and whisk the yogurt into the sauce in the pot. Add salt and pepper to taste.
To plate: Place a bed of cauliflower "rice" or white rice on each plate. Top with some of the chicken, sauce, scallions, chopped apple, raisins, and almonds. Season to taste. Serve.
Enjoy!
~Melissa
You may enjoy these related posts: