Print Friendly Version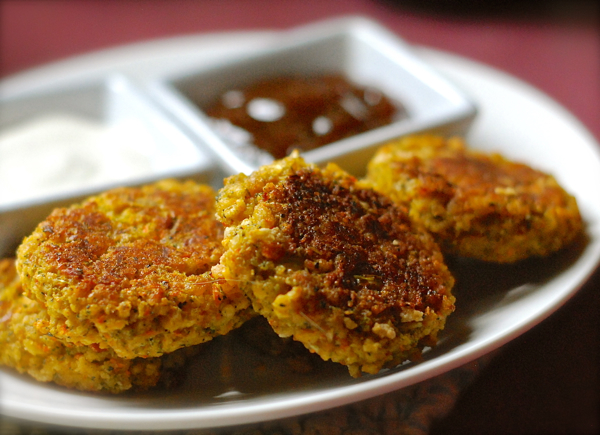 Ohmygoodness! I was craving McDonald's chicken nuggets a few days ago when my daughter and her boyfriend brought some home to enjoy with a movie. You have to understand, I never ate chicken nuggets even when I did eat meat, but for some darn reason I couldn't get them out of my head. Sooooo, I decided to make up a batch of these cheesy veggie nuggets and a bunch of different dips. I like them even better than the chicken variety, and I love how they actually give me energy and don't make me feel like I just ate a bucket of grease. They are seriously SO good! Your kids will love them too! A fun way to sneak some veggies into their diet!
PS: These obviously aren't vegan. They are a yummy nibble for vegetarians who splurge on the occasional egg and cheese treat.
1 cup shredded carrots
3 cups broccoli florets (don't use the broccoli bottoms)
1/4 cup fresh parsley leaves
1 large garlic clove, minced
2 large eggs
1 cup bread crumbs or cracker crumbs (not Panko)
3/4 cup shredded sharp cheddar cheese
1/4 cup Parmesan cheese
1 teaspoon onion powder
1/2 teaspoon black pepper
1/2 teaspoon Old Bay seasoning
1/4 cup Panko bread crumbs (for coating nuggets)
Shred carrots. Steam broccoli just until tender and bright green. Drain well and cool. Place carrots, broccoli, parsley, garlic, eggs, bread crumbs, cheeses, onion powder, pepper, and Old Bay in the bowl of a large food processor. If you have a small processor you'll need to do this in smaller batches. Pulse for 15 seconds, processing just until well combined. The nugget dough should easily form into a ball when squeezed. If it seems a bit dry, add water, 1 teaspoon at a time, until you reach desired consistency. If the mixture seems too wet, add more bread crumbs.
Form into 1 Tablespoon balls and then flatten to 1/2 inch thick. Gently coat with Panko, pressing a little so the crumbs adhere to the nuggets.
Heat 2 Tablespoons light olive oil in a skillet over medium-high heat. Once hot, fry nuggets in batches (approximately 3 to 4 minutes per side.) Nuggets should be golden brown and crispy.
Serve with honey mustard, bbq sauce, ranch dressing, sweet & sour sauce, and peanut sauce!
Enjoy!
~Melissa
You may enjoy these related posts: