Print Friendly Version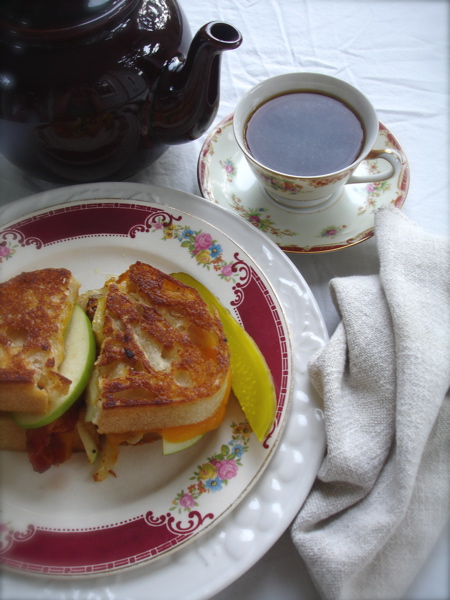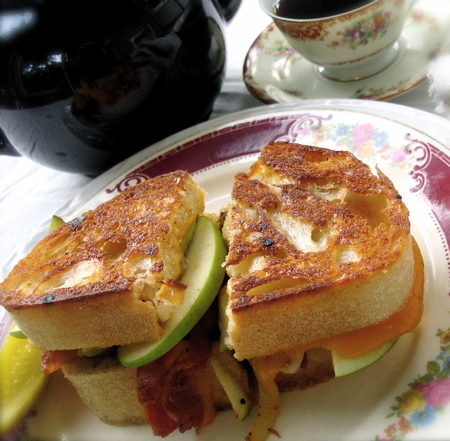 ~high tea or low tea?~
Most people think "high" tea is a fancy tea, served on fine china at four in the afternoon. Not so.  High tea is a hearty English meal that became popular among laborers and farmers in the 1600s. It was a substantial evening meal, sometimes called meat tea because filling dishes containing meat were always served. Things like roast beef sandwiches, pheasant pie in thick gravy, Welsh rarebit, cold meats, potatoes, rustic breads/brack, chunks of cheese, pickle, hard boiled eggs, and cake were often part of the menu. This meal was usually served at an informal table, such as a farm table, and the tea itself served from a china or pottery tea pot.
The fancy, formal afternoon tea ritual is actually called a "low" tea, and was reserved as a passtime of the leisure class. I know, this seems strange until you understand the reason for the titles. The words "high" and "low," when talking tea, refer to the table in which the tea is eaten. Low tea was served at a low table in a beautiful drawing room or parlor. It was enjoyed at four in the afternoon when the circadian rhythm of the body falls to a natural low. The delicate sandwiches, fruit, scones, and desserts were all small and easy to eat 'finger' foods. The tea was usually served from silver, not china.
Yesterday for high tea, we enjoyed this delicious apple bacon grilled cheese sandwich. You can make this on an actual charcoal or gas grill, but yesterday we just fried ours in a cast iron skillet. This sandwich is wonderful with a hearty, black tea such as Keemun, Assam or Ceylon…but it's especially good with a smoky cup of Lapsang Souchong. Lapsang Souchong is also a fantastic meat marinade.
~apple bacon grilled cheese sandwich~
for 4 sandwiches:
loaf of rustic sourdough bread, cut into thick slices
extra sharp cheddar cheese, sliced
granny smith apple, sliced
thick cut bacon, fried until crispy (about 4 slices per sandwich)
one medium onion, sliced thin
butter
honey dijon mustard for dipping (optional)
Fry the bacon until crispy. Remove to a paper towel-lined plate to drain. Set aside. Discard all but 2 Tablespoons of the bacon grease. Caramelize the thinly sliced onion in the bacon grease. Cut the loaf of sourdough bread into thick slices, two per sandwich. Butter the bread. Top with slices of cheese, slices of apple, caramelized onion, bacon and the other piece of bread. Fry over medium-low heat, until the cheese is melty. You may want to cover the sandwich with a small, stainless steel mixing bowl while it's cooking so the cheese melts as the bread browns. When the sandwich is done, cut it in half with a large, serrated knife for easier handling. This is one thick sandwich! Serve it with apple chutney or honey dijon mustard for dipping. MMMMM!
Enjoy!
Happy Teatime Tuesday!
~Melissa
You may enjoy these related posts: