Print Friendly Version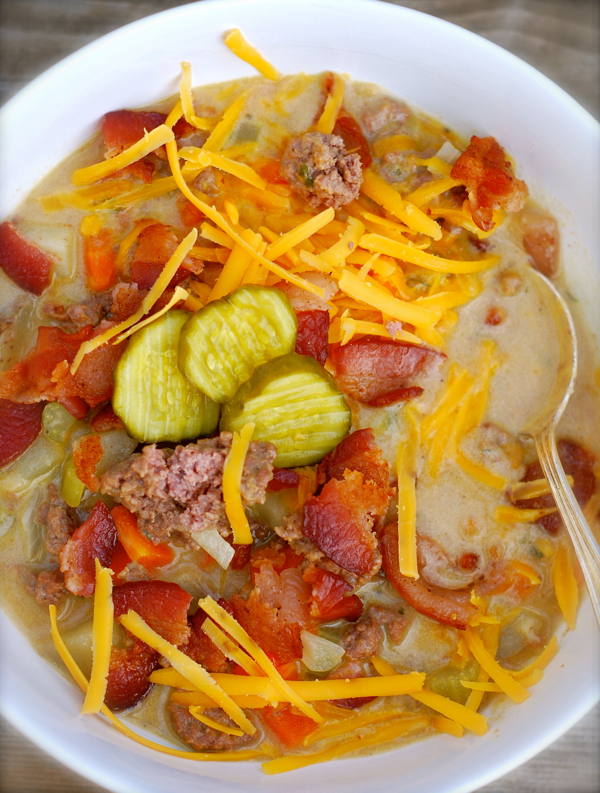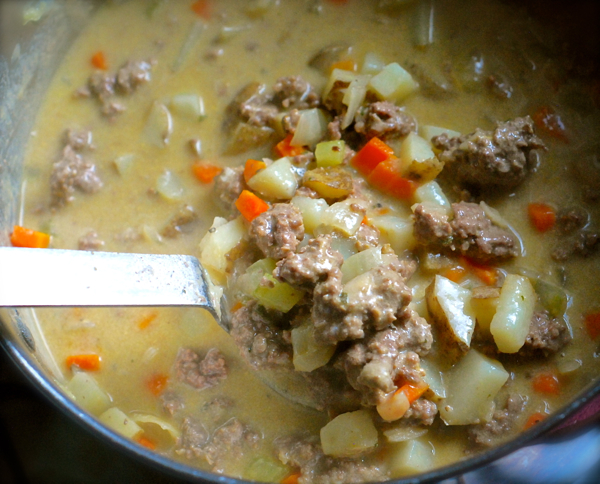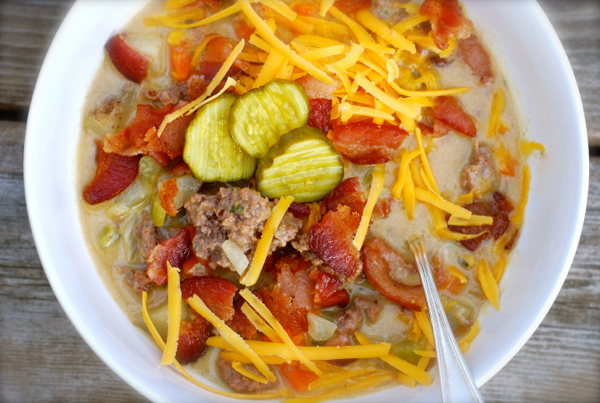 If you can't make up your mind between cheeseburgers and soup for dinner this evening, you've come to the right place. This soup is the best of both worlds! All of the flavors of a deluxe bacon double cheeseburger in a creamy, cheesy, comforting soup! I fried up potatoes to go in this too. A little nod to the french fry that usually accompanies a burger. You could leave them out and simply use some French fries as a soup topping! I've done it both ways. The French fries are definitely cute when serving this to company! Everyone oohs and aahs when you present their bowls to them. This is easy enough to make any day of the week. And just wait until you taste. Oh myyyy…. enjoy!
1 lb bacon, fried until crispy and broken into pieces
2 lb. lean ground beef
4 Tablespoons olive oil
2 cups unpeeled, diced potatoes
1 large onion, chopped
1 cup carrot, diced small
1 cup celery, chopped
2 cloves garlic, minced
1 Tablespoon fresh or dried parsley
1 teaspoon Lawry's Seasoned Salt
freshly ground black pepper, to taste
32 oz. chicken stock or broth
1 and 2/3 cups whole milk
4 Tablespoons butter
4 Tablespoons all purpose flour
16 oz. sharp cheddar cheese, shredded and divided
toppings: pickle chips, mustard, ketchup
Fry bacon until it reaches desired crispness. Remove from heat to cool. Set aside.
In a large, heavy skillet brown the ground beef until just a tiny bit of pink is still visible. Drain well. Set aside.
Heat olive oil the a large, heavy soup pot or Dutch oven. Add potatoes, onions, carrots, and celery to oil and saute until tender and browned slightly. Add garlic, and cook an additional minute. Add parsley, seasoned salt, and pepper. Stir well. Add stock and milk. Gently scrape any bits from the bottom of the pan that were left behind from sauteing the veggies. Add the reserved ground beef to the pot. Bring to gentle boil. Reduce heat to a low simmer. Cover pot with lid slightly askew and allow soup to simmer, stirring occasionally, for 30 minutes. While soup is simmering, make a roux by melting the butter in a small skillet. Once melted, add the flour. Whisk for a few minutes over low heat until smooth and a light amber color. The roux will smell slightly nutty when it's done. Whisk the roux into the simmering pot of soup. Once the 30 minutes is up and the soup is hot all the way through, add half of the shredded cheese. Stir until melted completely. Ladle into bowls. Top each serving with some of the bacon, more shredded cheese and your choice of burger toppings. We love a little drizzle of ketchup and mustard, and a few pickle chips!
Enjoy!
~Melissa
You may enjoy these related posts: