Print Friendly Version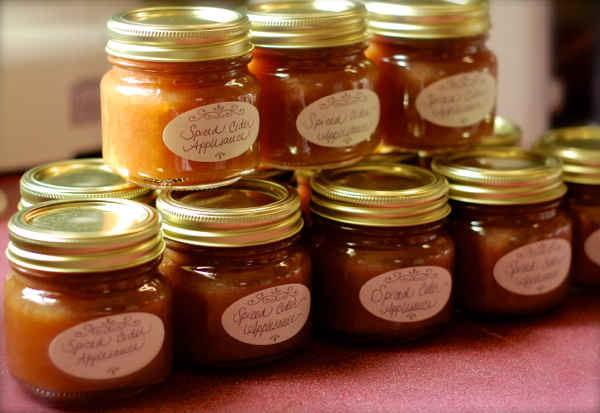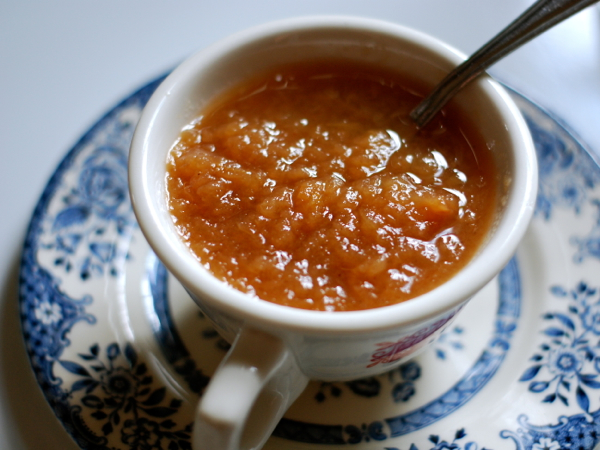 I made up a huge batch of this delicious, spiced cider applesauce for our 20th anniversary party favors. It's wonderful with pork roast, BBQ ribs, fried chicken and in muffins. Everyone loves it! I'm going to make up another batch and can it using the traditional canning method for fruit. This applesauce will make a lovely addition to my Christmas gift baskets!
for 6 pints of applesauce:
35 to 40 apples (peeled, cored and sliced)
4 cups tart apple cider
1 Tablespoon cinnamon
1 teaspoon whole cloves
1 teaspoon apple pie spice
1 cup brown sugar
1 teaspoon ground ginger
peel of one orange
pinch of salt
Wash, peel, core and slice the apples. Place them in the crock of an 8 quart slow cooker. (I prepared enough apples to fill up the crock all the way and left just enough room on top so I could securely place the lid on the slow cooker.)
Place the apple cider, cinnamon, cloves, apple pie spice, brown sugar, ginger and orange peel in a large saucepan. Bring to boil over high heat. Once boiling, reduce to a gentle simmer. Simmer, uncovered, for 30 to 40 minutes or until the cider mixture is reduced by half. Remove whole cloves and orange peel. Pour reduced cider over the apples in the slow cooker and carefully toss the apples with the cider. Sprinkle the pinch of salt over the apples. Cover and cook on the LOW setting for 6 to 8 hours, stirring occasionally. Once done, allow sauce to cool. Mash with a potato masher (I like to leave my applesauce somewhat chunky.) Transfer cooled sauce into 6 (1 pint) canning jars, or 12 (half pint) canning jars. Place lids on tightly, and refrigerate for up to 10 days. Freeze whatever you don't use within that amount of time. As stated above, this sauce can also be canned using the water bath method for canning fruit.
Enjoy!
~Melissa
You may enjoy these related posts: