Print Friendly Version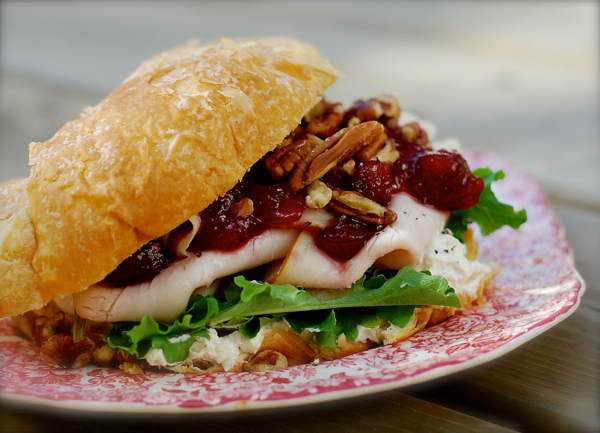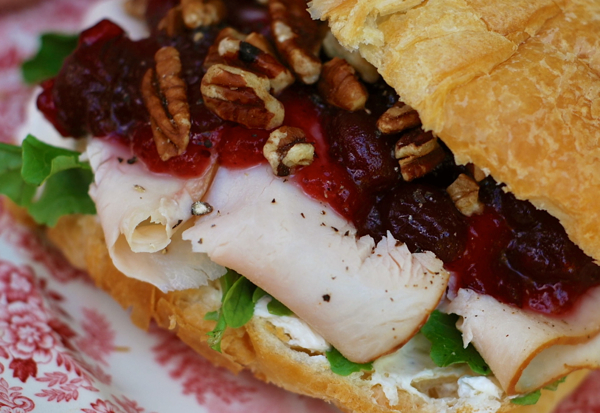 Get ready to make yummy noises. This is, hands down, one of my very favorite sandwiches. The flaky, buttery croissant, the slightly spicy cream cheese spread, the maple-glazed turkey, a slight crunch from the spring greens and pecans… all topped off with whole cranberry sauce and a little sprinkle of freshly ground black pepper. I like to make these for tea time lunches with friends. They're perfect with a cuppa and good conversation! This is a great way to use up some of those Thanksgiving leftovers that are sure to be taking over your fridge very soon…
for 4 sandwiches:
4 large croissants
4 oz. cream cheese
1 Tablespoon real mayonnaise (no substitutes)
2 Tablespoons finely chopped onion
1 teaspoon prepared horseradish OR Dijon mustard
1/8 teaspoon cinnamon OR pumpkin pie spice
a handful of fresh spring greens OR arugula
12 slices of maple-glazed turkey breast (use good quality deli meat)
1 cup whole cranberry sauce
1 to 2 Tablespoons chopped pecans per sandwich
freshly ground black pepper
Slice each croissant in half horizontally. Mix the cream cheese, mayonnaise, onion, horseradish, and cinnamon until smooth (use a fork to moosh it all together.) Put 1/4 of the cream cheese mixture on the bottom half of each croissant. Next, top the cream cheese mixture with some of the greens, a few slices of the turkey, approximately 1/4 cup of the cranberry sauce, some of the chopped pecans and a grind of black pepper. Top each sandwich with the top halves of the croissants. Carefully cut each sandwich in half. Serve.
Enjoy!
~Melissa
You may enjoy these related posts: