Print Friendly Version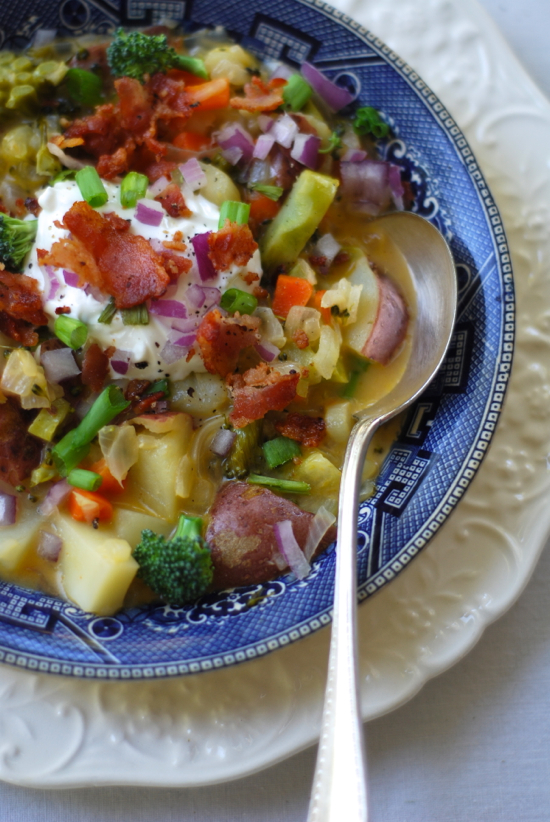 Don't ya just love this time of year? I've been having fun coming up with new soup and bread recipes, wearing sweaters while I sit on the deck with a pot of tea and my notebooks, writing the afternoon away. The leaves on the trees are just beginning to change here in the Mississippi river valley, steamboats are coming and going in Levee park, apple orchards are bursting with lovely offerings. I can't wait to go out to our friends' vineyard, sit at a pretty table in their bistro and have an autumn wine-pizza picnic…and of course there's Halloween to look forward to! What a completely awesome time of year!
Here's a new chowder to help you celebrate. This recipe was inspired by the fully loaded baked potato. It's got it all.
4 Tablespoons butter
1 large onion, chopped
1 large carrot, chopped
1 cup broccoli, chopped
2 ribs celery, chopped
2 large cloves garlic, minced
1/4 cup all-purpose flour
salt and pepper
32 oz. chicken stock or broth
1 cup whole milk
12 oz. beer
4 baked potatoes, skins on, chopped
8 oz. shredded cheddar cheese
1 Tablespoon Worcestershire sauce
2 Tablespoons (or more) Sriracha hot sauce
sour cream, "Top o' the Tater," or greek yogurt (for topping)
extra cheddar cheese (for topping)
1/2 lb. bacon, fried until crispy and crumbled (for topping)
finely chopped purple and/or green onion (for topping)
In a large Dutch oven, over medium heat, melt the butter. Add onion, carrot, broccoli and celery. Cook until tender (about five minutes.) Add garlic, and cook one minute more. Sprinkle flour in pan. Cook two minutes to brown flour. Add salt, pepper and gradually whisk in the chicken stock. Add milk and beer. Stir in potatoes. Bring to a boil and then reduce heat to a gentle simmer for about 20 minutes. Stir occasionally and watch pot so the chowder doesn't burn. Add cheese, a little at a time, stirring until melted and smooth. Season to taste with Worcestershire, Sriracha (or your favorite hot sauce), salt and pepper. Garnish with sour cream, extra cheese, onion and bacon crumbles.
Enjoy!
~Melissa
You may enjoy these related posts: