Print Friendly Version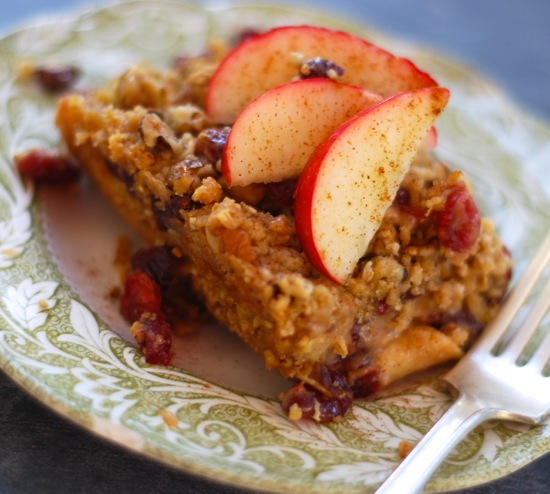 This is the time of year to get the best apples and cherries from Door County Wisconsin. If you happen to be in the area, you are certainly in for a treat! If you're not, don't worry. You can still make this delicious dessert with your favorite local apples and dried cherries from the grocery store. Or…you could order some of the real thing HERE. We love them in homemade granola too!
Okay, are you ready for the best caramel apple cherry bars EVER? You've come to the right place!
for the crust:
2 cups all purpose flour
2 cups toasted steel cut oats
1 and 1/2 cups firmly packed brown sugar
1 teaspoon baking soda
1 and 1/4 cup melted butter
for the filling:
1 cup caramel ice cream topping
1/2 cup sweetened condensed milk
1/2 cup all purpose flour
1 teaspoon cinnamon
3 large sweet-tart apples, peeled and sliced thin
1 cup dried cherries
5 oz. chopped walnuts
Heat oven to 350 degrees F. Place steel cut oats in an even layer on a large jellyroll pan. Toast in oven for 20 minutes, stirring every five minutes. Remove from oven and cool. Once cooled, combine all crust ingredients until well incorporated. Press 2 and 1/2 cups of the crust mixture firmly in the bottom of a 9 x 13, glass baking dish. Bake at 350 for 8 minutes. Remove from oven and set aside.
Mix the rest of the crust mixture with the walnuts and set aside.
In a small saucepan over medium heat, combine caramel topping, sweetened condensed milk flour and cinnamon. Mix well and cook at a low simmer for 3 minutes, stirring constantly, just until thickened and heated through.
Sprinkle the apple slices and cherries evenly over the crust. Pour caramel mixture evenly over fruit. Sprinkle the crust/nut topping evenly over everything. Return to oven and bake for 20-25 minutes or until golden brown. Cool completely and cut into bars.
Enjoy with a scoop of vanilla bean ice cream and a lovely cup of tea.
Happy TeaTime Tuesday!
XO,
~Melissa
You may enjoy these related posts: