Print Friendly Version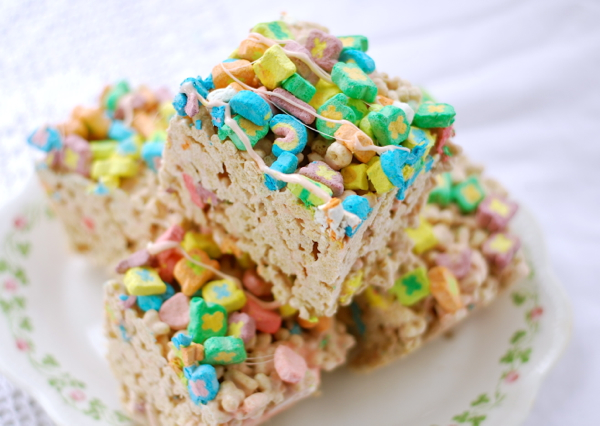 I love cooking special treats for holidays. St. Patrick's Day is an especially fun, whimsical theme. I used the some of the marshmallows from a box of Lucky Charms Cereal as a garnish for my Tipsy Shamrock Shakes yesterday, so I decided to use the rest of the box to make a pan of Lucky Charms Treats. They're made almost exactly the same way as making Rice Krispies Treats, but you have to take a little extra care with the cute little marshmallows. I just take most of them out and use them as a decoration for the top of the bars. These are super cute and everyone loves them!
PS… use whatever marshmallows you like. I happened to have a bunch of jumbo red velvet cupcake marshmallows left over from Valentine's Day. I tore them into little pieces and they worked well, turning the cereal part of the bars a pleasing pink color.
~ serves 6 to 8 people ~
1 stick (1/4 lb.) butter, divided + more for buttering hands
8 to 10 oz. mini marshmallows (or whatever you have)
8 cups Lucky Charms cereal
Generously butter an 8×8 or a 9×9 square, glass cake pan.
Remove most of the decorative marshmallows from the Lucky Charms, and set aside.
Pour the rest of the cereal in a very large mixing bowl.
Melt the rest of the butter in a large saucepan, over medium heat. Add the mini marshmallows (not the decorative ones) to the butter and stir until melted and smooth. Working quickly, stir the marshmallow/butter mixture into the cereal until well combined.
Transfer to prepared cake pan. Using generously buttered hands, press the cereal mixture into the cake pan to form and even layer. Top with the decorative marshmallows. Chill until set. Cut into 6 to 8 squares and serve.
Enjoy!
~Melissa
You may enjoy these related posts: