Print Friendly Version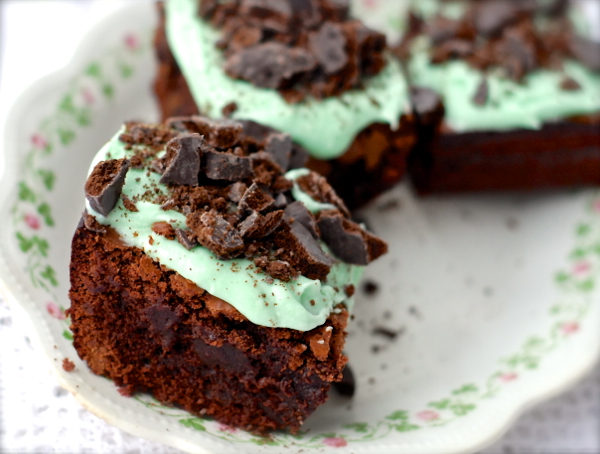 These amazing brownies (inspired by my daughter Gracie's creation) are absolutely the fudgiest brownies on the planet. They have this irresistible, crunchy outside and a gooey, fudge filling. If you serve them when they're still warm they taste like molten chocolate lava cake.
I decided to make up a batch for St. Patrick's Day and add some minty goodness. Oh. MY. YUM. You're going to love these. Feel free to substitute Ande's mints, peppermint patties, Godiva mint chocolates, or crunched up peppermint sticks if you don't have any of the Girl Scout Thin Mint cookies on hand for the topping.
~ for the brownies ~
1 cup semi sweet chocolate chips
1 and 1/2 sticks butter, cut up into chunks
4 oz. unsweetened chocolate bar (I use Ghirardhelli 100% Cacao Bar)
1 and 1/2 cup sugar
4 large eggs
1 teaspoon mint extract
3/4 cup all purpose flour
1/4 teaspoon salt
Generously butter a small cake pan or an 8X8 square baking pan.
In a medium size microwave-safe bowl, melt the chocolate chips, butter and unsweetened chocolate in 15 second bursts. Stir in between each melting session and heat just until melted, watching closely so you don't burn the chocolate. Set chocolate aside.
In the bowl of a Kitchen Aid, mix eggs and sugar at high speed for 3 minutes, using the paddle attachment. Beat in the chocolate mixture and peppermint extract. Using a wooden spoon, fold in the flour and salt just until combined. Don't over mix.
Pour batter into prepared baking pan and bake for 35 to 40 minutes. Brownies will still be slightly wet in the middle and will set considerably upon cooling. Cool completely before frosting and cutting into squares.
for the peppermint buttercream:
6 Tablespoons butter, softened
2 and 1/2 cups powdered sugar
3 Tablespoons heavy whipping cream
1 teaspoon peppermint extract
3 drops green food coloring
Mix all in bowl of a Kitchen Aid, using the whisk attachment, until light, fluffy and smooth. Frost completely cooled brownies. Garnish with crumbled Girl Scout Thin Mint Cookies.
Enjoy!
~Melissa
You may enjoy these related posts: